Tide of Iron: Ground Force and Artillery Details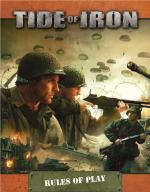 Publisher Fantasy Flight games has started to roll out the preview articles for their upcoming World War II epic war game Tide of Iron [Funagain].
As our Axis and Allies renaissance continues in the Critical Gamers offices, every bit of information we learn about Tides of Iron gets us pumped for an upcoming change of pace to a more tactical simulation of WWII action.
Part One of series starts off with a few unit types that you'll have hoofing-it around Western Europe. The article covers regularly infantry men, machine gun troops, and eventually gets into some of the details of Allied and Axis armor. It's nice to see that right off the bat the game contrasts the overwhelming raw power of Axis armor against the weaker but more maneuverable Allied counterparts. There seems to be plenty of gaminess to be had in those aspect.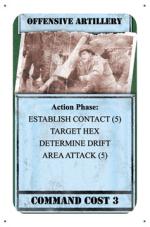 The second article focuses on various Offensive Artillery command cards to showboat the game's command point system. Players will earn points by capturing objectives on the map, and then use those points to call in off-map artillery strikes, air support, etc. We like the fact that things don't always work out the way you want them to: the game simulates the chaos and mayhem of battle through a dice mechanic where the orders might not come through. Can your troops successfully contact and coordinate with HQ to get the Artillery to drop ordnance in the right spot? *... rolls dice*.
Sounds like it could be an complication more than a gamey simulation, but in the end we doubt it. Most of the rules seem lean enough to keep things chugging along at a good pace.
Tide of Iron is currently set to ship in April, and is available to preorder from Funagain Games.
Read More in: Board Games | Gaming News
Share this Article with others:
Related Articles:
Came straight to this page? Visit Critical Gamers for all the latest news.
Posted by Critical Gamers Staff at February 21, 2007 1:08 PM