Ticket to Ride Switzerland Released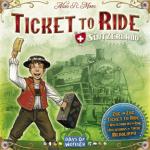 The slim expansion to the excellent Ticket to Ride series of board games has shipped to stores. Ticket to Ride: Switzerland [Amazon, Funagain] condenses one of our favorite board games down to 2-3 players, with a new map and a few new rules. The train pieces aren't included, so players will need either the original Ticket to Ride or Ticket to Ride Europe to play.
This time around Switzerland is the main focus of this railway building card collection board game. As we reported earlier, there are a few new mechanics, including tunnel building which alters the wildcard mechanics and adds some more chance to the game. These tweaks are minor, though. The major change is the smaller map, which feels more crowded and the game become competitive early.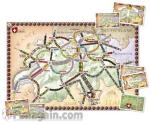 That's great as the level of direct competition doesn't build until the late game when 2-3 players play the original titles. The board is just too large for people to seriously butt heads. So those of you who often find yourselves with only two other players might want to spice up their Ticket to Ride collection with this Swiss edition, which keeps gameplay tight throughout the duration of the game.
There are two great reviews out here for to checkout. There's this User Review on Board Game Geek, and another in depth review by Tom Vasel - the gaming guru himself.
Ticket to Ride Switzerland is now shipping from Amazon and Funagain Games.
Here's the company line:
" From the shores of Lake Geneva to the slopes of Davos, this expansion takes you through the heart of Switzerland's mountainous geography. You'll climb aboard the Mont-Blanc Express connecting Martigny to France and ride the Bernina Express over soaring passes into Italy.

Previously only available to Ticket to Ride Computer game players, the Ticket to Ride Swiss Map Expansion is now coming to your board game table! Designed specifically for 2 or 3 players, this expansion forces you to reconsider all your Ticket to Ride playing strategies. It features Locomotive cards that can only be used on tunnel routes; only 40 trains per player; and new Destination Tickets that take you not just to other cities, but to surrounding countries as well.

The game's author, Alan R. Moon, has called the Swiss map his "favorite of all the Ticket to Ride maps". We think you'll also find this map a great new way to play your favorite train game!

This expansion requires an original copy of Ticket to Ride or Ticket to Ride Europe to play. "
Other Ticket to Ride Stories of Interest
Read More in: Board Games
Share this Article with others:
Related Articles:
Came straight to this page? Visit Critical Gamers for all the latest news.
Posted by Critical Gamers Staff at October 15, 2007 3:51 PM