Ticket to Ride: Nordic Countries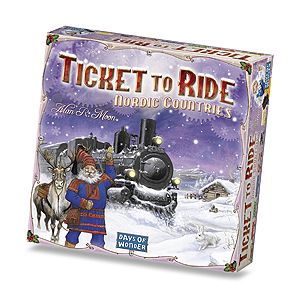 Ticket to Ride overload! Well, not really. We've been loving Ticket to Ride on Xbox Live, including the new Ticket to Ride Europe edition, and we've also been playing Ticket to Ride Marklin when we game face to face.
Now we have yet another title to tackle, because Days of Wonder just released the international edition of Ticket to Ride Nordic Countries [Amazon, Funagain]. Previously limited to the Scandinavian markets, Nordic Countries includes a new map of Norway, Sweden, Finland and Denmark, and sports intreguging new Wildcard mechanics.
The map's new route setup is insane, too, with more tunnels and ferry routes than the behind the scenes DVD feature of Santa Clause vs NORAD 2: Electric Boogaloo.
Ah, can you smell the weekend? We sure can.
Here are the official details:
---

"Ticket to Ride Nordic Countries takes you on a Nordic adventure through Denmark, Finland, Norway and Sweden as you travel to the great northern cities of Copenhagen, Oslo, Helsinki and Stockholm. Visit Norway's beautiful fjords and the magnificent mountain scenery on the Rauma Railway. Breathe in the salt air of the busy Swedish ports on the Baltic Sea. Ride through the Danish countryside where Vikings once walked. Hop-on the Finnish railway and travel across the Arctic Circle to the land of the Midnight Sun.

Players collect cards of various types of train cars that enable them to claim railway routes and pass through tunnels and onto ferries, as they connect cities throughout the Nordic Countries.

As with previous versions, the game remains elegant, can be learned in 5 minutes and provides hours of fun for families and experienced gamers alike.."

---
Read More in: Board Games | Gaming News
Share this Article with others:
Related Articles:
Came straight to this page? Visit Critical Gamers for all the latest news.
Posted by Critical Gamers Staff at August 22, 2008 3:53 PM