Ticket to Ride Board Game Launches on Xbox Live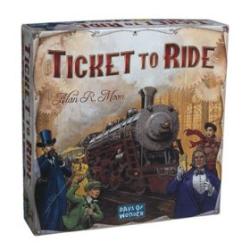 The boiling pot of Xbox Live board games just got a whole lot sweeter today with the latest addition Ticket to Ride, and we're pretty pumped. Ticket to Ride slides into its rightful place alongside Xbox Live versions of Carcassonne and Settlers of Catan to fulfill our favorite compendium of gateway gaming goodness.
Xbox Live's first Ticket to Ride installment starts things off with the original Ticket to Ride board game. You can start playing immediately by virtually spending 800 Microsoft Points in the Xbox Live Marketplace (~ $10.00 US). More installments are planned for the future: the Ticket to Ride USA 1910 Expansion should spice up the original map with new routes and scoring options, and a Ticket to Ride Europe installment with its new rules (tunnels & stations) is planned as well.
No word on if our favorite Ticket to Ride Marklin will get some Xbox love, but we're guessing 'no'. Such a shame.
Here are the official details:
"All aboard! Travel from coast to coast and visit all the stops on the exciting train adventure Ticket to Ride™. Plan your routes and connect your cities across the country to become the ultimate traveler. Earn points as you claim your tracks and complete your tickets for your chance at the big score. From sea to sea, crisscross the nation as you build the longest route and take home the prize. It's hours of fun for your family and friends. Who will come out on top when the steam clears? Get your Ticket to Ride and see!

Variable difficulty levels: Either locally or in Xbox LIVE® matches, choose Easy, Medium, or Hard A.I. opponents to challenge your gaming skills.
Multiplayer: Play with up to three of your friends on a single console, or take on Ranked or Player matches over Xbox LIVE with up to five players.
Leaderboards and achievements: Post your Xbox LIVE match results to the leaderboards. Follow game stats for each player such as Highest Score, Total Trains Played and their Time Spent Playing. And track your progress with twelve new achievements.
Camera support: See yourself and your friends during gameplay with Xbox LIVE Vision Camera support.

"
Read More in: Board Games | Gaming News
Share this Article with others:
Related Articles:
Came straight to this page? Visit Critical Gamers for all the latest news.
Posted by Critical Gamers Staff at June 25, 2008 4:17 PM