Ticket to Ride Europe for Xbox Live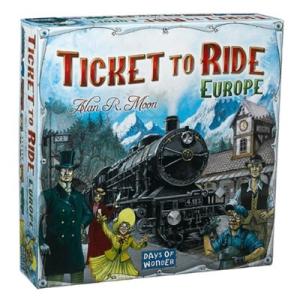 Ticket to Ride Europe [Amazon, Funagain] hit Xbox Live this morning, a week later than we expected but it's here none the less. And it's awesome.
We've been digging the original Ticket to Ride Xbox Live Arcade game, which we feel is the best Eurogame on Xbox Live hands down. This new downloadable Ticket to Ride Europe pack is equally as enjoyable. It's not just a new map, but a new set of rules including tunnels, ferry routes, and a new placeable station mechanic that lets you utilize an opponent's constructed routes as your own.
We played a few rounds already, and after having played the expansive map of the USA in the original Ticket to Ride Arcade game quite a bit, the 'new' Europe map feels cramped, a bit claustrophobic, and risky (due to the tunnel routes), but all in a very well balanced manner. It is a Days of Wonder game after all.
Our only small complaint is with the icons used to convey the number of stations you have left to place. They appear overlayed on your player portrait, in small lightly outlined boxes rendered the same color as your player color. This isn't so bad on online play, where a player's gamertag image is used as their portrait, as gamertags are all sorts of different colors. However the AI players have themed portraits based on their color, red for instance. And small red station icons overlayed on small red portrait just makes them incredible hard to see.
But if that's our main beef then you know the game is rock solid otherwise. Enough talking, time to play more!
For more information about Ticket to Ride Europe for Xbox Live, please see our story "Ticket to Ride: Europe Comes to Xbox Live". You can grab Ticket to Ride Europe for Xbox Live by selecting Downloadable Content from the main Ticket to Ride menu, which of course means you'll need the original Ticket to Ride Xbox Live game to play.
Trust us - it's worth it.

Read More in: Board Games | Gaming News | Variants
Share this Article with others:
Related Articles:
Came straight to this page? Visit Critical Gamers for all the latest news.
Posted by Critical Gamers Staff at August 6, 2008 4:41 PM