"Thurn and Taxis: Power and Glory" Expansion Released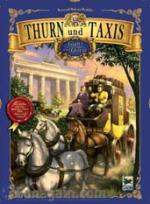 It's the 15th century. Your pigs are fat, the crop is just about ripe for the harvest, and Oktoberfest is only a month away. Life is good.
It strikes you sometime between gargling your AM ale and chomping down your lard toast: cousin Martijn should come down for the harvest and join-in on the Barvarian bierfest celebration! But uh, the German postal system doesn't quite reach across the country, let alone extend all the way up to Holland. How the heck are you going to reach cousin Martijn to tell him to get his skinny butt down to Bavaria, post-haste! Freaking 15th Century red tape. Time to change it!
If you're scratching your head wondering what in the heck we're talking about, then let us fill you in. Thurn and Taxis was released last year to a welcoming audience of players ready to compete in to create the most comprehensive postal delivery network in 15th Century Germany. People who like Ticket to Ride have found Thurn and Taxis to be a great take of the route-connecting genre of games, with more family friendly elements and a particular de-emphasis of direct competition in gameplay.
Thurn and Taxis: Power and Glory [Funagain] expands the original game, replacing the board with a new series of postal routes that stretch into the northern reaches of Germany and into Holland. Also included is a new optional horse mechanic which changes the way some of the longer routes are won.

Those interested in the details should checkout this great BGG post "Everything you could possibly want to know about this game." [link]. It explains the expansion's new horse variant quite well, and does a great job summing up all other elements of the game.
Here's the offiical word:

"The postal carriages continue to roll. Now that players have learned to master the postal routes in the south, they naturally turn their eyes toward the north, looking for more routes to establish to add to their ever-growing postal networks. The new routes run between Holland and Sachsen -- between Preußen and the free cities. The players build new postal stations in order to provide fast service for important letters to the many new customers in the north.

Hard-working postal carriers add horses to their carriages to enable them to travel farther and more safely, which will help the separated Preußen provinces to achieve power and glory.

This expansion offers new ways for players to enjoy Thurn and Taxis. The new board opens up new areas for postal routes. New bonus tiles and new city cards (with horses on their backs to support the new rules) are included to support the new board. Hopefully, players will enjoy these changes and the strategic opportunities they offer.

Contents:

1 gameboard
4 carriage cards
69 city cards
39 bonus tiles
1 rider figure
1 rule booklet

"
Thurn and Taxis: Power and Glory [Funagain] is now shipping from Funagain Games.
Read More in: Board Games | Gaming News
Share this Article with others:
Related Articles:
Came straight to this page? Visit Critical Gamers for all the latest news.
Posted by Critical Gamers Staff at April 11, 2007 2:40 PM