Four New Kids Titles from Blue Orange Games
We love war games, we love strategy games, adventure games, party games (especially those that involve beer), and maybe an R rated movie or two. And though we cover Family Games, most titles have a complex set of rules requiring players to reach the wise old age of 8. Doogie Howser and Mitch Taylor, excluded.
But as our group continues to squirt out the little hooligans we're becoming a bit more sensitive to the fact that our board game coverage is leaving our titles for young kids. Of course we assume the little geniuses aren't reading our site, but parents are. And in a time of war, political scandals, and football's off-season roster movements, won't someone please think of the children!?
And this of course leads into four new kids titles that shipped this week from publisher Blue Orange Games. We don't have to tell you game-players that board games teach social respect, sharing, turn taking, planning, and math skills. Plus they're colorful, and fun to boot. Some even taste good.. better than paste and construction paper sandwiches, and spicy thumbtack surprise.
Here are four of their latest: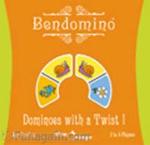 Bendomino Jr. [Amazon,Funagain]

Easy to learn, Bendominoes play just like regular dominoes. Watch a new pattern being created each time you play as pieces will curve and twirl around the table. The curved pieces can also block your opponents if they don't have the bendomino that fits. Bendominoes' original design creates a fun and twisting game that is entertaining for the entire family!
Froggy Boogie [Funagain]
It's naptime at the pond but the baby frogs still want to play. Baby frogs try to be the first to hop around the pond without being seen by the adult frogs. Players guess or remember which adult frog popping eyes will freeze the baby frogs in their race. This fun memory game is a delight for the entire family!
Quack Quack [Funagain]

All the colorful animals from the farm are playing in the field. The little farm helpers need to make sure all the animals are on the farm by calling them. Be the first helper to call the animal matching the colors on the dice to win. This game of quick observation will have the whole family mooing like a cow!

Bingory [Amazon,Funagain]

Part Bingo, part Memory, Bingory is an entertaining and challenging memory game for kids and parents alike. Be the first to complete your bingo card by finding matching pairs and you win!
If the sound of these titles tickles your fancy then checkout their whole gaming catalog, which goes back to 2001 and includes children-friendly puzzles, too.

Read More in: Board Games | Gaming News
Share this Article with others:
Related Articles:
Came straight to this page? Visit Critical Gamers for all the latest news.
Posted by Critical Gamers Staff at March 21, 2007 4:55 PM