The Settlers of Catan Relaunches in Fall 2007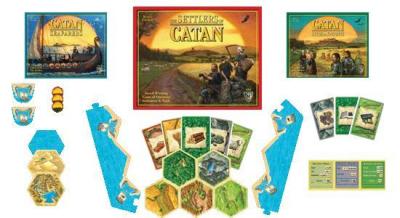 Settlers of Catan 4th Edition is Out! Checkout our Release Story for more details
The Setters of Catan is about to receive an overhaul just before the Holidays - and it's about time that we've received some good Eurogame news. Mayfair Games has decided to produce another release of the cult classic Catan with higher quality materials and new art - including a unique illustration for each individual tile with the goal of breathing a bit of life into the island. Also included is a slick little board bracket system that clamps down on the board making set-up much easier, and decreasing the older version's aptitude to scramble chaotically with the slightest table bump.
The initial release of titles includes the standard Settlers of Catan and two expansions: Catan: Seafarers, Catan: Cities & Knights. And from the Mayfair verbiage, it sounds as though the rest of the Catan expansions are slated to receive a similar overhaul in the near future.
This newest incarnation of Catan: Seafarers, and Cities & Knights are set for a November release, just in time for the gift giving season. You can find out more at "Mayfair Re-launches the Catan Line!" on the Mayfair Games official website.

Read More in: Board Games | Gaming News
Share this Article with others:
Related Articles:
Came straight to this page? Visit Critical Gamers for all the latest news.
Posted by Critical Gamers Staff at September 17, 2007 3:37 PM