The Settler of Catan's Long Lost Brothers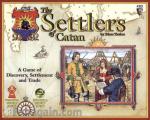 Here's one for all of you Settler's of Catan [Amazon, Funagain] fans - 'Nick' from Mayfair Games (publisher of famous The Settlers of Catan) has posted a great article on GamingReport.com entitled "The Origins of Catan". The article describes Settlers' designer Klaus Teuber's grand idea to create a massive game with three very different elements of gameplay: the exploration of the unknown, the establishment of settlements on the frontier, and then the feuding of those settlements over various resources in that new land.
But that design was too big to fit into just one box, and what we now know as The Settlers of Catan is actually one game in a spiritual trilogy - the middle game, actually.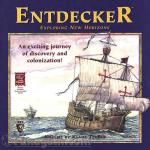 "The Origins of Catan" describes the other two products that Klaus Teuber later released. "Entdecker" (1996) [Amazon, Funagain] (which is German for "Discoverer") is the exploration portion of the franchise, and a prequel to The Settlers of Catan (1995). Players of Entdecker set out in to explore an uncharted sea (blank board) by flipping over randomly-drawn tiles to reveal an uncharted map of new islands. Once discovered, the players race amongst each other to settle the strongest colony in the new island chain.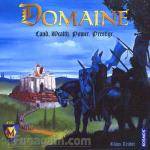 And finally "Domaine" (2003) [Amazon, Funagain] caps the epic design. Here players elbow at each other over the control of various portions of land, placing walls and deploying knights to protect their domain, and selling resources produced from the mines they control to become the most powerful and richest player.
The article at GamingReport.com goes into more detail about how these games eventually came into being, but the best news for the Settler's fan is that these are widely available today. So if you've loved Settlers after all these years, and you're looking for Settler's 2 - then you've been fooled! The game's sequels are already out!
Read More in: Board Games | Gaming News
Share this Article with others:
Related Articles:
Came straight to this page? Visit Critical Gamers for all the latest news.
Posted by Critical Gamers Staff at November 29, 2006 11:07 AM