The Dice Tower Releases Game of Year 2009 Nominees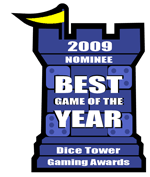 The Dice Tower today announced their Best Game of the Year 2009 nominees. Actually, that's a half truth; they've announced a veritable hit list of the best games of the last year in a ton of different categories.
But first the cream of the crop. The Dice Tower Nominees for Best Game of the Year 2009 are:
Our money is on Chaos in the Old World. That game is fan-freaking-tastic.
Anyway, The Dice Tower folks are serious gamers and we've trusted the opinions for years. Therefore if your shopping around for a new, high-quality game to pickup, then be sure to check out their full list of nominations. For a taste checkout their extensive list of categories:
Best Family Game
Best Game Designer
Best Game Reprint
Best Production Values
Best Small Publisher
Best Party Game
Best Game Expansion
Most Innovative Game
Best Game Artwork
Best War Games
Have a good weekend folks!
Read More in: Board Games | Gaming News
Share this Article with others:
Related Articles:
Came straight to this page? Visit Critical Gamers for all the latest news.
Posted by Critical Gamers Staff at May 14, 2010 5:00 PM