Age of Empires III: The Board Game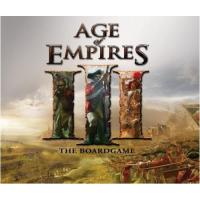 The board game adaptation to the Ensemble Studios' Real Time Strategy computer game "Age of Empires III" has been released. In Age of Empires III: The Age of Discovery [Amazon, Funagain] players take on the role of 15th century colonialists laying claim to the resources and lands of the New World. By assigning colonists and a few specialists - including merchants and soldiers - to various colonizing tasks each colonial power vies against one another to open up new territory in the Americas, wresting control of the territories from the native inhabitants.
Once conquered the new territories return goods and riches back the players' home capital city which - in a neat mechanic - can the be built-up and evolved to help their colonial power score more victory points, send more colonists to the new world, and beef up colonial defenses against rival powers (other players).
The game is more about smart moves in the allocation of resources than it is a war game of conquering territory with troops. The battles between players serve an important role in the game, but there are no dice and a quick resolution. Also, most of the fighting against the natives is glossed over. Colonies win new territories with a large mass of colonists (probably carrying the plague) and not with muskets, horsemen and big cannons.
The Age of Empires computer game series has always been about harvesting resources to help evolve your civilization through various social and economic periods from history. The board game adaptation reflects this with 2 major Age-shifts which occur during set points in the eight-turn game. For instance, a shift from the Colonial Age to the Industrial Age may also shift the general theme of specialist-generating buildings in the capital city. Buildings available for purchase shift in to a paradigm of generating colonial specialists to that of money-making buildings which manufacture products from particular goods found in the new world. The sale of goods generates money which can then be used to wage wars, construct new buildings, etc, which snowballs your economy even fruther for the Imperial Age.
The Age of Empires III board game has been through some growing pains, especially when the publisher Eagle Games folded last year. But now finally published under Tropical Games, the title designed by Glenn Drover - the creator of the Rail Road Tycoon board game - has been very well received upon release; it's currently rated an impressive 8.2 on Board Game Geek.
Reviews and Links:
The Official Word:
" Take on the role of a colonial power seeking fame, glory, and riches in the new world. As you proceed through three centuries, you will launch expeditions of discovery, colonize regions, expand your merchant fleet, and develop your economy. As the competition heats up, you will recruit specialists (Merchant, Soldier, Captain, and Missionary) to help you gain an edge over your opponents, declare wars, and build capital buildings that give your nation unique advantages.

Can you re-write history? Play the Age of Discovery and find out!

Features:

250 Plastic Miniatures and Coins
"Euro-style" game design by Glenn Drover
Artwork by Paul Niemeyer
Playtime 90 – 120 Minutes
2 – 5 Players (Expandable to 6 Players)
For Ages 10 and Up

"
Our Other Age of Empires III Stories:
Read More in: Board Games
Share this Article with others:
Related Articles:
Came straight to this page? Visit Critical Gamers for all the latest news.
Posted by Critical Gamers Staff at August 6, 2007 1:50 PM