Tannhäuser: Operation Novgorod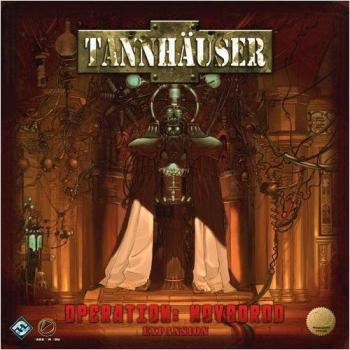 The well previewed expansion to Tannhäuser, the alternate reality strategy game of WWI Nazis, Zombies, and American Paratroopers, has hit shelves. Tannhäuser: Operation Novgorod [Amazon, Funagain] adds a series of interesting new missions, characters, and weapons to the game. Oh, and now the Russians are getting involved, with their own chilly Slavic Gods at their backs, they have a selection of new abilities including mind number psionics that should add some interesting things to the game. Here are the official details:
---

"A new faction has risen to challenge the balance of power in the Great War. The forces of the Russian Matriarchy command advanced technology and ancient theology as they emerge from their torpor to purify the world. By using the technology of President Edisons one-time pupil Nikola Tesla, they have devised a way to bring ancient Slavic divinities to a semblance of mechanical life. The power they have harnessed threatens to tip the balance of the war forever. -- Featuring a new faction, new heroes, robotic minions, and an all-new character type, Operation Novgorod is a completely new way to play Tannhäuser."

---
For more information about Operation Novgorod, checkout our previous story Tannhäuser: Operation Novgorod Previews. The expansion is now available from both Amazon and Funagain Games.
Read More in: Board Games | Gaming News
Share this Article with others:
Related Articles:
Came straight to this page? Visit Critical Gamers for all the latest news.
Posted by Critical Gamers Staff at February 13, 2009 5:09 PM