Tannhauser: English Edition Crossing the Pond this July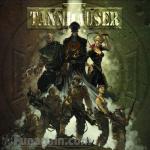 Tannhäuser: it's 1949. World War I is still raging strong, and deep inside Central Europe the forces of the Reich stumble upon an ancient Relic. As it turns out this glowing shard-thing is the key to opening the door to Hell. Thirsting over absolute power, The Reich makes a move to activate the relic in hopes it'll bring an end to this bloody war once and for all.
The only thing that can stop them is a small crack team of allied soldiers who just airdropped in. Armed with firearms, grenades, and 1940's experimental weapons from the arcana, the heroes must lead an assault to stop the Reich at all costs.
Do you know where your children are?
Tannhauser is right up our alley. Let's see: the game takes place during the 1940's as the Germans and Allies fight over war torn Europe: Check. The game has heroes that you can customize, and who lead squads of soldiers for fodder: Check & Check. Oh, and there's a gate to hell, and experimental weapons tied to the alternate reality history of the demony unknown: yeah, that's a big old check and a half.
Tannhäuser [Funagain] originally shipped to gamers in France in 2006 and has chalked up quite a good rating at BGG. Sure there are only 10 votes, but how last we checked BGG wasn't in French. Coming this July we'll get a chance to see the English version of the game, and we can't wait to get our hands on it.
We have to be honest: we've only heard about Tannhäuser just now when we read the English translation's press release. But everything that we read, from the translated instructions to the game's description, has us thirsting for more. Take this, for instance:
"In 1949, this incessant war has been raging for 35 years and finally a secret archaeological dig has delivered to the Obscura Korps a long sought ancient relic. This artifact is thought to guard an ancient parcel of knowledge. The exact emplacement of one of the four dark cardinal corners of reality is on the verge of being revealed.
A portal leading to hell, this un-sanctified zone is found buried within the secular crypt of a fortress situated in the heart of central Europe. The Reich's 13th Occult Division is there now. They are about to call upon the Cohorts of Chaos to help them force the world into eternal servitude.
Parachuted behind enemy lines, a fistful of men and women are all the Union has left to thwart this peculiar menace. The Unions finest trained commandos armed with technology still in its experimental stages, the glory bound 42nd Alter-Marine Special Forces must now face the most terrible danger to face humanity in recorded history.

Tannhäuser goes beyond the standard package of set of characters, proposing a vast array of customization, allowing players to develop a unique tactic and style of play for their hero. 10 charismatic personalities await them to be groomed for battle, using over 70 magnificently illustrated types of tokens that faithfully depict various weapons, medals, ranks, powers and equipment."
Yes please. Read more about Tannhauser at Fantasy Flight Games.
Tannhauser is now available to Preorder from Funagain Games. We're currently looking at a July 2007 ship date. Consider our Fancy tickled.
Read More in: Board Games | Gaming News
Share this Article with others:
Related Articles:
Came straight to this page? Visit Critical Gamers for all the latest news.
Posted by Critical Gamers Staff at February 13, 2007 9:53 AM