Starcraft the Board Game Trailer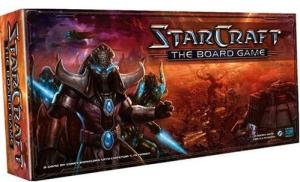 In a standard move of the great prelease lead-ups from Fantasy Flight Games, a trailer of the upcoming Starcraft the Board Game [Amazon, Funagain] has been released. The preview trailer – made in the same vein as the well-produced Tide of Iron trailer and the Tannhauser trailer – does a great job of overviewing the game. Included is a general break down of the gameplay, details of the interesting board setup and mechanics, a slight preview of the factions, and a walk through of the general overarching rules. It's worth the time of any fan eying the upcoming Starcraft release. And hey, it's definitely a lot more interesting that simply reading the rules.
But in the end it does feel a little dry because all it does is detail the framework of the game. So we thought you might enjoy a bit of a companion piece to complement the movie: a great Starcraft the Board Game session report on Board Game Geek. It's probably one of the most detailed session reports that we've seen, and it doesn't bog down in any rules details either.
Recently we've been playing a lot of Fantasy Flight's WWII epic Tide or Iron -- getting in the mood for another involved strategy game from Fantasy Flight's big box division, and we now we can't wait to get our hands on the sci-fi themed Starcraft. Currently it's slated for release on October 31st ! You can preorder it now from Amazon and Funagain Games.

Read More in: Board Games | Gaming News
Share this Article with others:
Related Articles:
Came straight to this page? Visit Critical Gamers for all the latest news.
Posted by Critical Gamers Staff at October 29, 2007 4:11 PM