Starcraft the Board Game Review from GenCon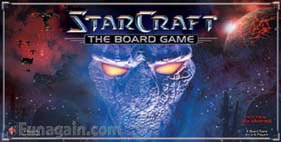 We weren't at Gen Con this year so we couldn't lay our own hands on the prerelease copy of Starcraft from Fantasy Flight Games. But now that the dust of the show has settled there's this great Starcraft Board Game User Review on Board Game Geek.
Starcraft aims to be another Big Box game from Fantasy Flight - like Twilight Imperium and World of Warcraft - which means a lot of rules, a lot of pieces, and some pretty epic gameplay: 3-4 hours of a planet hopping strategery. The game has taken some flak for not emulating the planet-battle theme of the computer RTS, instead abstracting the gameplay into a war over multiple planets - but it seems to us that it's an a-ok way to do it. We just wonder why it takes so long in a game session considering a standard Starcraft RTS fight usually only lasts an hour. We also hope this interstellar theme doesn't overlap with Twilight Imperium - a game that we already own, and have paid for, and we don't really want to pay for it again for a Starcraft face lift. And the review suggests that the instruction book is a bit hard to reference and that's a major pet peeve of ours.
The review, and the resulting comments that fall out of it, also suggests that Starcraft plays a lot like Nexus Ops. So maybe the Twilgiht Imperium overlap concern is being overly cautious. And a 3-4 hour game might not be so bad now that we're entering into the dark Fall - Winter months.
W'e're currently conflicted.
Starcraft is slated for release this October and you can checkout more info from the game's official website. We'll keep you posted of any other prerelease and release news as we approach its release.
Read More in: Board Games | Gaming News
Share this Article with others:
Related Articles:
Came straight to this page? Visit Critical Gamers for all the latest news.
Posted by Critical Gamers Staff at September 14, 2007 11:10 AM