Starcraft The Board Game Official Details Released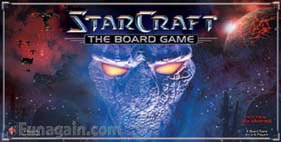 Fantasy Flight Games has launched the official Starcraft The Board Game website for its upcoming adpation of the world renouned Blizzard Real Time Strategy Game of the same name. The website includes a great overall preview article about the game, and also a link to a PDF file of the official rules [link].
Starcraft looks be another mammoth release from Fantasy Flight Games, with gobs of pieces, a dynamic game board, and some complex / deep rules. There's plenty to game here.
Players take on the roll of either Human space marines, the brooding alien scourge of the Zerg, or the zealous alien race of the Protoss, who attempt to "cleanse" with fire anything the Zerg has touched. The game has support for up to six players and should take around three hours to complete a session. Yes, three hours - like we said, mammoth - but what else should we expect from another Fantasy Flight Game's big box release?
Those strategy game folks who are familiar with the other FFG epic board game Twilight Imperium ( and if you're not then do yourself the favor) will be quite at home with a lot of the core style of play. Starcraft will ship with a modular board where individual star systems – containing resource piles of crystals and gas - are placed on the table in a player-draft system during setup. Each adjacent system is then linked by a nice space lane piece which locks the board into place. Players then expand across the "galaxy" to mine resources and accumulate victory command points as they build bases to cement control of their core systems. The first player to 15 command points wins. Easy Peasy.
And of course the vast array of Starcraft military equipment and tech trees means that conflicts will certainly erupt as players move out in all directions to control these systems for themselves. In a move that might slow the game, but increase gameplay, Fantasy Flight has done away with dice combat for this title. Instead players assign combat cards to each unit to augment its base combat effectiveness. Some combat cards simply modify the unit's combat strength, while others give the unit in edge in specific matchups – such as increasing the damage the unit does to air units. Knowing where and when to play these cards could definitely add some extra depth and oomph to Fantasy Flight's normally dice-heavy combat.
This preview article on the official website goes into some more of the juicy details, and includes quite a few other great elements coming down the pipe when Starcraft finally ships to retailers. Currently, we're looking at a potential 2007 release date, and Starcraft is looking pretty darn impressive thus far.
Read More in: Board Games | Gaming News
Share this Article with others:
Related Articles:
Came straight to this page? Visit Critical Gamers for all the latest news.
Posted by Critical Gamers Staff at August 13, 2007 3:59 PM