Starcraft the Board Game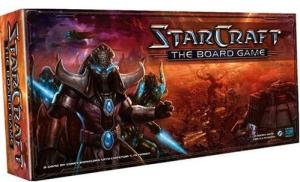 Starcraft the board game is out! Published by Fantasy Flight games, Starcraft [Amazon, Funagain] extends the collection of deep strategy titles of the publishers big box series of well-themed strategy war games. Supporting up to 6, players of Starcraft the board game take on the role of Human space marines, the zealous and high tech alien race of the Protoss , and the brooding insect-like Zerg as they fight over a board comprised of dynamically placed planetary systems. Players build up their faction's tech level, construct units and conquer planets, wresting control of resources and coveted victory points from their competitors. The player who stockpiles the most victory points wins, but a few faction-specific victory conditions keeps the game from becoming straight forward and predictable.
This is a top notch title with high quality pieces, solid rules, and gobs of gameplay. It's also a pretty serious game for some pretty serious strategy game fans, or for those who love the Starcraft Universe. Don't get us wrong, this isn't quite the die hard chit wargame with all the fixings of heads-down calculations, slide rules, and line of sight calculation, but a good Starcraft session could have a lot of ebb and flow and take around 3-4 hours to complete. And considering the fact that the dynamic board means that no two games will be the same, this is a lot of gaming in one box.
Highly recommend for those who like the following games: Twilight Imperium, Axis and Allies, Warcraft the Board Game and Civilization.
For more information about Starcraft the board game, please see our other related stories: