Small World Hitting Shelves April 22nd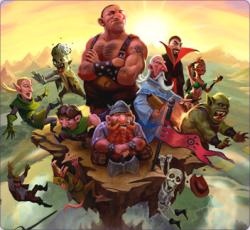 Just a quick note about a game we've been covering the last few months. Days of Wonder has announced that it Civilization Game meets Fantasy themed quirkiness - Small World - is slated for release on April 22nd in just over a week's time.
The family friendly game (Ages 8 & Up) from the publisher of such greats as Ticket to Ride, Memoir '44, and Mystery of the Abbey, puts each player in control of their own fledgling civilization. Players will quickly determine that the island that everyone is stuck on is just a tad too small for things to remain friendly. Through the adoption of a choice Fantasy-themed races, and unique special powers, players can customize their Civ to defend their territories and exploiting weaknesses of their neighbors.
While there have been a sea of complicated Civilization style games over the years, there are few that remain light enough to be appropriate for casual and family gamers. We've covered a few, like Tempus, which was easy to play, but portions of the title were a bit unbalanced, and the game itself didn't LOOK approachable. But seeing the accoutrements of Small World, and knowing the pedigree of Days of Wonder's - a publisher known for approachable and high quality titles - we have faith that this title will make quite a splash.
For more information about Small World, please checkout our previous stories:
We'll pipe back in about Small Worlds in just a few weeks, when we confirmation it's hit stores shelves.
Read More in: Board Games | Gaming News
Share this Article with others:
Related Articles:
Came straight to this page? Visit Critical Gamers for all the latest news.
Posted by Critical Gamers Staff at April 13, 2009 1:41 PM