Small World Contest Spawns Three Mini Expansions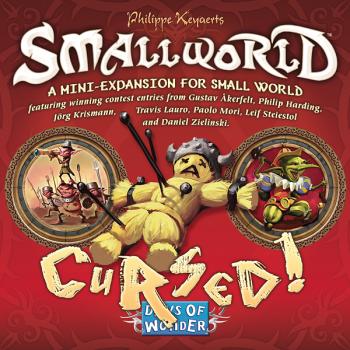 The family friendly and sightly quirky civilization board game Small World [Amazon, Funagain] is one of the more solid titles of the year. It's mix of maps, elegant empire building rules, and random racial elements all add up to be a fun yet strategically satisfying board game session of (small) world domination.
A few months ago the publisher Days of Wonder held a contest for the best user generated content the game's followers could produce. Now, only a short time later, the cream of the crop has been weighed, measured, and hand picked for release in the form of three mini expansions How cool is that?
Here are the details pulled from the official press release:
---

"The Grand and Secondary Prize entries will be released in 3 different Small World mini-expansions this year. The first two expansions will debut at Essen. The Grand Dames of Small World will feature the Priestesses, White Ladies, and Gypsies, along with Historian and Peace-loving Special Powers. Cursed! introduces the Kobolds and Goblin races along with 5 Special Powers: Cursed, Hordes of, Marauding, Ransacking, and Were-. Both of these Small World mini-expansions will be available for sale at Essen and shortly after in game stores around the world for the MSRP of $10/€8.

The Leaders of Small World is a special game play option that players can choose when picking a new Race/Special Action Combo. The Leaders expansion will be sent free of charge, as a thank you to all those who submitted an entry in the Small World Design Contest. Small World fans worldwide who did not enter the contest will also be able to get a copy exclusively from BoardGameGeek.com in November for a small shipping and handling fee."

---
Of course we'll keep you posted of any more details as they're released.
Read More in: Board Games | Gaming News
Share this Article with others:
Related Articles:
Came straight to this page? Visit Critical Gamers for all the latest news.
Posted by Critical Gamers Staff at September 14, 2009 3:30 PM