Merlin's Company - A Shadows Over Camelot Expansion Announced!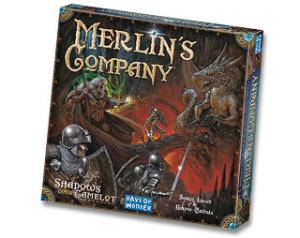 Days of Wonder has announced that the fantastic cooperative board game Shadows over Camelot [Amazon, Funagain] will grow considerable with an expansion this summer.
The original game had players draw to see which of them is a secret traitor, who strives to secretly sabotage the efforts of the group throughout the game. The new expansion includes a second traitor card for twice the backstabbing fun, and increases the number of potential players from 7 to 8. The game also ships with 7 new knight characters, a Merlin character - which we're not sure how he'll affect gameplay - and some enemy witch agents for added flavor.
There's a lot going on here. And considering Days of Wonder lineage of polished, high quality, and and fun games (Ticket to Ride anyone?) - oh baby, Merlin's Company should be good.
Here's the company line:

"Merlin's Company is an expansion for the popular Shadows over Camelot board game. It introduces a host of new characters - including 7 new knights and Merlin himself - to the Shadows over Camelot epic. The wise old wizard is now a full-blown independent character in the game, complete with his own figure. He travels the board lending guidance and a helping hand to the embattled knights.

Merlin's Company also introduces 63 new cards: the all new Travel cards - events that may occur as you move from Quest to Quest; additional Black cards, including 7 witches allied with Morgan; and additional White cards that will help you and your fellow knights in your battles against the forces of evil.

The Merlin's Company expansion, supports up to 8 players, including 2 possible Traitors, assuring that even the most innocuous Shadows over Camelot Quest will be filled with grave peril."
For more information please see the official Merlin's Company website.
Read More in: Board Games
Share this Article with others:
Related Articles:
Came straight to this page? Visit Critical Gamers for all the latest news.
Posted by Critical Gamers Staff at April 18, 2008 11:05 AM