Settlers of Catan Resource Analysis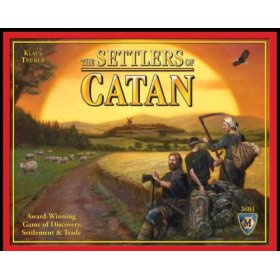 A fantastic read for Settlers of Catan strateticians surfaced yesterday in one of the major Board Game Google Groups. An apt player has derived a list of the most important resources to focus your economy on to ensure your settlement has that extra kick to get it rolling and bring your game home. Players looking for a competitive edge over friends should definitely give it a once over.
We thought about trying to derive our own such list once, but we got distracted by a fancy doodle we drew, and then got wicked argumentative about whether Alpine cheese is superior to the few common English varieties. At the end of the day our list ended-up being a torn mustard stained contract of IOU a salami sandwich on french baguette, hold the swiss.
This new list is much better. It not only doesn't smell of vinegar, but it also sorts the resources in numerical importance from top to bottom with very convincing arguments to defend the order.
Those of you looking for a quick-fix should know this: Ore is better.
Read More in: Board Games | Gaming Culture | Gaming News
Share this Article with others:
Related Articles:
Came straight to this page? Visit Critical Gamers for all the latest news.
Posted by Critical Gamers Staff at June 13, 2008 1:37 PM