Settlers of Catan Game Cards - Melt those Wrinkles Away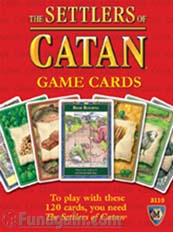 Even if you're one of those obsessive washers, hands are oily, greasy, dirty mittens of bacterial jucinesses by nature. Everything they touch tarnishes and melts, including such luxuries as gold, diamonds, silverware, puppy dogs and kittens.. and your games, too.
If the cards in your Settlers of Catan set are sittin' pretty, then move along - there's nothing for you here. But if you look at your Settlers box o' cards and they seem cold, toothless and grey, and you don't want to fully upgrade to the full Settlers of Catan 4th Edition set, then Mayfair might have a compromise right up your alley.
For a fraction of the cost of the full game, you can upgrade / replace your warn or lost set Settlers of Catan cards [Amazon, Funagain] , including both resource and development cards, without the nuisance of writing the manufacturer directly and hoping there's someone with a pulse on the other end.. Plus, you get the full blow 4th Edition quality of materials and artwork to boot. Not bad for under 10 bucks.
Why is this such a big deal? Well when Mayfair brought out the 4th Edition of Catan, many folks might have found the upgrade cost prohibitive. Now you can get half the upgrade for a fraction of the price!
Read More in: Board Games | Gaming News
Share this Article with others:
Related Articles:
Came straight to this page? Visit Critical Gamers for all the latest news.
Posted by Critical Gamers Staff at May 15, 2008 10:35 AM