Settlers of Catan: Traders & Barbarians Expansion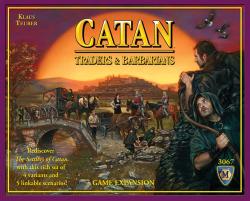 Catan: Traders & Barbarians [Amazon, Funagain] expands the general gateway board game of choice Settlers of Catan, and in a very convincingly way. The expansion not only ships with a boat load of new pieces and mechanics, but it sports 5 new scenarios as well. Plus, it works with the past expansion, and even includes a variants booklet to boot.
Some of these scenarios are throwback to past mini-expansions that you may not have picked up. The first scenario The Fishermen of Catan, and the second The Rivers of Catan, are either repackaged or revamp expansions that shipped in Games Quarterly Magazine issues dating back to Spring of last year. The rest of the scenarios change the game up considerably, including players struggle against a barbarian invasion while they attempt to rebuild the now castle city-state of Catan, an island that has come a long way since the original.
We should note that this edition is part of the new 4th Edition Line of Settlers of Catan that started shipping in November 2007 with revamped art and upgraded materials. If you don't have the 4th edition then don't sweat - either Catan: Traders & Barbarians will work fine, or you'll need to get the 4th Edition Ddapting Kit. Here's an official tidbit form a May Fair Games repot posting in the BGG Community Forums:

"...most of [Traders & Barbarians] will be 3e-compatible directly out of the box, but some scenarios will require the frame from the 4th edition base, obtainable in the adapter kit for 3rd edition owners.
Three familiar pieces are in this box: the Catan event deck (basically unchanged), the Fishermen of Catan (expanded from the previous stand-alone version) and the Great River of Catan (greatly expanded from the previous version). Official 2-player rules are also included in the 4 variants and 5 scenarios.
Lotsa wood pieces and bits, and scenarios ranging in weight from simple to C&K-challenging - there's a lot to explore!" - Alex Yeager, Mayfair Games
A bit confusing, but it's not so bad. Basically if you're a Catan Nut but don't have the 4th Edition then you might want to pickup the adapter kit just to be safe. And without further adieu, here are the Settelers of Catan: Traders & Barbarians Expansion official details:

"Delve deep into Catan! In Catan: Traders & Barbarians™ you'll find lots of cool new ways to explore Klaus Teuber's award-winning game series. You can now play with just 2 players! Add a harbormaster, a friendly robber, or special events. Play with a wealth of new wooden pieces and capabilities.
You can even link your games to create an intriguing campaign. Use these 4 variants and 5 scenarios to reinvent your Catan experience!
5 Challenging New Scenarios:
The Fishermen of Catan- Fish in the great lake or try casting in rich coastal shoals. A fresh, expanded, and updated version!
The Rivers of Catan- Not one, but two, great rivers invite flourishing commerce. Bridge them en route to glory and wealth.
The Caravans- Nomads of the oasis seek wool and grain. Camel caravans offer trade.
Barbarian Attack- Eager for booty, vile barbarians land and occupy Catan's fertile shores. Brave knights unite and ride to battle.
Traders & Barbarians- Your wagons transport fine marble, glass, tools, and sand to help restore Catan's castle to splendor. Combine these rich scenarios to create a compelling campaign!
Contains:
24 wooden knights
12 wooden bridges
36 wooden barbarians
22 wooden camels
4 wooden wagons
40 coin counters
14 new region and water tile pieces
120 new cards


Special victory point cards and tokens
Variants and scenarios booklet
With 98 new wooden game pieces in 5 colors and flavors!"
Read More in: Board Games | Gaming News
Share this Article with others:
Related Articles:
Came straight to this page? Visit Critical Gamers for all the latest news.
Posted by Critical Gamers Staff at July 9, 2008 2:57 PM