Sen So Ninja Combat Board Game Arrives for Review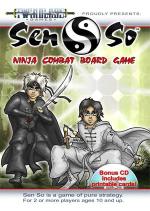 We received TwinBlade Games' Sen So Ninja Combat Board Game in the mail in slick little dvd sized case, and we haven't been this excited to play a tactical fighting game since we first took the wrapping off Battle Tech back in the day. In Sen So, players plan their moves two turns ahead an attempt to bring their swords, throwing stars, and arching nunchucks to bear on the opposing player, who is concurrently trying to smash you're head in. Think of it as Anachronism, but with more options, and more dynamic and longer lasting gameplay. In other words, think of Anachromism but fun.
But the game doesn't just sport dueling Ninjas. Expansion packs bring Zombies, Robots and Aliens (the H.R. Giger-esque incarnations) to the table top pit of death. All of them sport their own fighting and artistic styles.
Now TwinBlade just needs to add a Bloodthirsty Clown to the mix and they'll have completed the Pentamerate of R rated movie icons from our childhood glory days. And like some sort twisted 1980's Hanna Barbara cross-over show gone wrong, they meet to fight each other like Gladiators in sandy pits for our gaming pleasure.
Here's a bit of How-To Preview we lifted from the game's official website. Feel free to mull it over while we work out a few unfinished vendettas in the arena:
Read More in: Board Games
Share this Article with others:
Related Articles:
Came straight to this page? Visit Critical Gamers for all the latest news.
Posted by Critical Gamers Staff at April 10, 2008 1:56 PM