Sea 3D - a Digital Settlers of Catan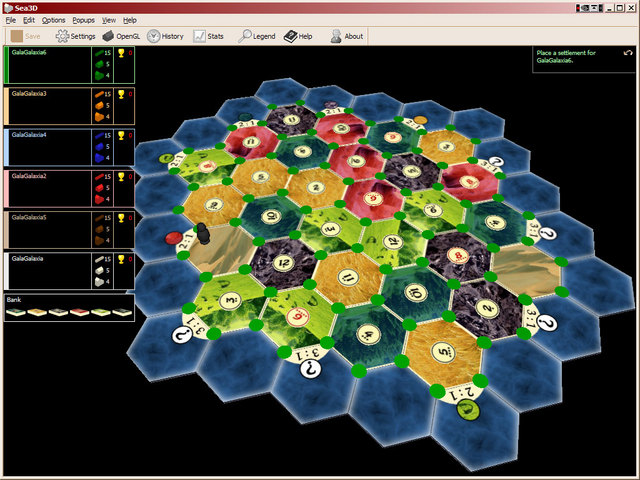 Settlers of Catan may be the best thing out of Germany since the US red-rovered Old Leather Pants Hasselhoff for Heidi Klum (Epstein couldn't have managed a better trade). Catan is simple, social, and has near-infinite replayability. What could make it better?
I'll tell you what - playing it during work hours from the comfort of your office butt groove. When your workday is draggin', and your eyes roll over as you become an unconscious drooling mass, then you know it's time for a break. And next to a stiff drink absolutely nothing breaks up the stress of the day like a quick game.
Enter Cities 3D - a free online project that brings the Settlers of Catan to your PC (and in 3D!). Now nothing beats playing the game in person with 4 people but sometimes that's just not possible. Thankfully Cities 3D has taken advantage of that Board Game copyright loop-hole where only the board design, instructions and game-name are private domain. Lucky us, and lucky you, because that means you can challenge your friends to quick game of Cities (of Catan) guilt free, and they can join-in from anywhere across the interweb. Or you can do what we do - keep the game running all day long and take a turn whenever you need a breather. Consider it your coffee break - Just don't let the boss guy catch you. Management there might not be as liberal there as it is here.
Anyway, when you hit to project website grab Sea 3D and not Cities 3D.The later is project still in the works and only half complete. . Have no fear though - if you haven't played Seafarers of Catan (an excellent expansion pack to Settlers) then you can download Sea 3D with and still play it with the Settlers variant. It's the the same board setup and rules as the original Settlers of Catan boxed version, all there in one nice easy package.

Grab it here for your Windows PC.
Read More in: Board Games
Share this Article with others:
Related Articles:
Came straight to this page? Visit Critical Gamers for all the latest news.
Posted by Critical Gamers Staff at November 16, 2005 11:29 AM