Sauron to Throw Some Smackdown in Middle-earth Quest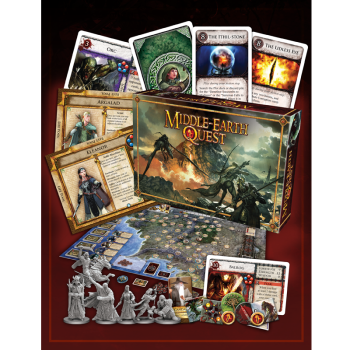 Publisher Fantasy Flight Games released the first information about the announced "Middle-earth Quest" adventure game today, expanding upon their suite of Lord of the Rings board game titles. In this latest adaptation of the franchise, players will control three heroes trying to scramble to conceal the truth of the ring during the time it hasn't even left the shire. They'll need help from a lot of the novel's characters, of course, which hasn't quite been detailed yet. Perhaps from character decks and ability cards. Pulling the strings on the other end will be a player controlling the antagonizing forces of dark, attempting to reveal the ring bearer with the powers of Sauron and squash him like the hairy footed ewok he is.
As we hinted at before : details are a bit sparse at this point. We'll keep you apprised of more information as this game begins to take shape. Until then check out the Middie-earth Quest official release announcement.

Read More in: Board Games | Gaming News
Share this Article with others:
Related Articles:
Came straight to this page? Visit Critical Gamers for all the latest news.
Posted by Critical Gamers Staff at May 14, 2009 3:33 PM