"Runewars" the Empire Adventure Board Game Hits Shelves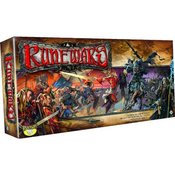 The newest epic board game experience from Fantasy Flight Games is now in stores. Runewars [Amazon, Funagain] is a full-fledged fantasy empire simulation and an adventure game with heroes all rolled into one. The game board is setup in a random tile draw like fashion, with a strategic placement phase for that each player. These tiles include terrain elements that effect movement and resource collection, so the implications of each tile's placement will have an impact throughout the entire game.
The has four factions each with their own flavor making up a full spectrum of classic fantasy elements. There's the human sword and board human faction, a slow acting undead faction with elements of regrowth, an elf faction that's quick and fast but paper thin, and a brutal magic wielding faction that don't believe in shirts. Not quite sure why.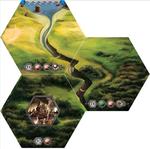 The game sports a whole bunch of other interesting mechanics, like four seasons seasons to the year. This doesn't only just effect when and where you can move (rivers freeze over and become passable in the winter) but it's coupled with different playable cards for each season. You'll have to plan out your year of conquest ahead of time given the hand you've been delt. The board, itself, also has 3D mountains for that extra flair. Interestingly hero units are more about special tactics than leading armies to victory. Neutral monsters are on the board and be can be tamed and brought o your side. There's just tons of cool stuff going on here.
For a good discussion and for more details of the game checkout this user review and its subsequent comments. For more product information check out the Runewars Preview Trailer and this lengthy product description article on the official Rune War website.
Here's the official product description:
---

RuneWars is an epic board game of diplomacy, combat, and quests for two to four players. Designed by Corey Konieczka, RuneWars pits players against each other in a strategic game of battles and area control, where they must gather resources, raise armies, and lay siege to heavily fortified cities.

RuneWars includes over two hundred beautifully rendered cards and as many tokens, as well as nearly two hundred finely-detailed plastic miniatures, but perhaps most exciting are the modular hexagonal map pieces. Featuring stunning three-dimensional mountain terrain, these map pieces ensure that no two games are ever the same!

RuneWars takes place in the same popular fantasy universe as the best-selling board games Runebound and Descent: Journeys in the Dark, and dozens of fan-favorite heroes and monsters play their part. The wars for the dragon runes are beginning, and only one faction will emerge victorious. What would you do to claim the ultimate power?

---
Read More in: Board Games | Gaming News
Share this Article with others:
Related Articles:
Came straight to this page? Visit Critical Gamers for all the latest news.
Posted by Critical Gamers Staff at January 28, 2010 11:29 AM