Risk: Black Ops Ties Up the Lose Ends of a Classic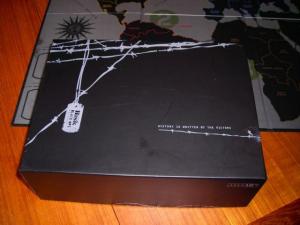 Ah, yes, the classic game of world domination is getting a sweet facelift coming soon to a table near you. The goal over the overhaul: eradicate those Risk sessions that drone on for hours and hours as two armies march in a hypnotic waves of ebb and flow of continental conquest. In Risk: Black Ops players will be provided a common pool of goal cards dealt from to operations deck, like to take and hold one of the new Capital spaces littered throughout the map. Once a player has three goals the game ends. Yes, Risk now has dynamic goals and an end game. Heck yeah. From
GamersWithJobs.com
:
"Objectives are missions varying in difficulty, from Minor Objectives like "Control Europe" to Major Objectives like "Take Over Ten Territories in One Turn". There are twelve in all, although in a given game, you only play with eight randomly selected ones (four Major and four Minor). ... Each Objective also offers a randomly drawn Reward for its completion, which varies in value depending on the Objective's difficulty. Minor Rewards (for the Minor Objectives) bestow benefits like additional troop maneuvers or guaranteed cards, while Major Rewards (guess which ones those are for) offer juicy bonuses like an extra die for attack or defense."
Via
Gamers With Jobs
and
Board Game News
.
Read More in: Board Games | Gaming News
Share this Article with others:
Related Articles:
Came straight to this page? Visit Critical Gamers for all the latest news.
Posted by Critical Gamers Staff at February 6, 2008 4:15 PM