Rio Grande Games' Spring Schedule: Vikings and Thurn and Taxis Expansion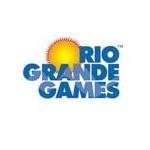 Rio Grande Games, publisher of many of our favorite family-friendly games out of Germany, has released Volume 8, Issue 1 of their newsletter [pdf]. You can download it digitally here. Included in the publication is information about their Spring schedule for upcoming game releases:
"In April we will release... Thurn and Taxis: for Power & Glory, Vikings, Cartagena II, Caylus Magna Carte, If Wishes were Fishes, Arkadia, Jenseits von Theben, Vikings, Ponte del Diavalo, Guatamala Cafe, Notre Dame, and Sakkara... And, we expect to release Race for the Galaxy in June or July."
You might have noticed that we substituted some ellipsis there for .. something. Wouldn't you like to know what it is? Turns out that many titles from Rio Grande Games' have recently sold out, and the publisher has updated their schedule to reflect when you should expect reprints. We've included the details on these second/third runs down below, in case your local game store is out of stock of one of them.
But first, we thought we should fill you in on the details of some of the upcoming titles from Rio Grande Games that we're most interested in. Starting with an expansion to last year's family friendly hit title:

Thurn & Taxis: for Power & Glory [Funagain]
The postal carriages continue to roll. Now that players have learned to master the postal routes in the south, they naturally turn their eyes toward the north, looking for more routes to establish to add to their ever-growing postal networks. The new routes run between Holland and Sachsen – between Preuben and the free cities. The players build new postal stations in order to provide fast service for important letters to the many new customers in the north. Hard-working postal carriers add horses to their carriages to enable them to travel farther and more safely, which will help the separated Preuben provinces to achieve power and glory. The new board opens up new areas for postal routes and the game has new bonus tiles and new city cards (with horses on their backs to support the new rules).
Vikings [Funagain]
Each player is the leader of a band of Vikings. His task is to scout and then settle the islands off the coast of his homeland. As the Vikings uncover the size and shape of the islands, each band seeks to control as much of these new lands as possible. The bands build yards and churches and invite goldsmiths, scouts, fishermen, and nobles to settle on their island to establish the most profitable settlements. But, warriors are also necessary! As, the islands soon attract ships bound to attack them to pillage the new settlements.
Information regarding the other titles mentioned in the Rio Grande Games newsletter can be found on Rio Grande Games website. Also, here's the current reprint schedule for the next few months. Enjoy!
March:
Power Grid Expansion 2
Halli Galli
Puerto Rico
Big Box Carcassonne
That's Life
April:
May:
Read More in: Board Games | Gaming News
Share this Article with others:
Related Articles:
Came straight to this page? Visit Critical Gamers for all the latest news.
Posted by Critical Gamers Staff at February 19, 2007 4:58 PM