Rio Grande Games May 2007 Lineup: Notre Dame, Vikings, and Caylus Magna Carta Coming Soon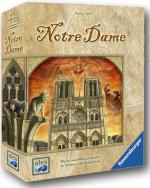 The Publisher Rio Grande Games recently released their board game shipping plans for the month of May. Included on the list are some games that have tested very well at trade shows earlier this year as well as the English translation of some existing games that have done well in Germany.
Rio Grande Games has a long history of bringing fantastic Eurogames to the American market. We're talking about classics like Carcassonne, Alhambra, Caylus, and the recently popular Thurn and Taxis. Now that the clock has struck May, we are on the eve of the release of some new - potentially modern classic – releases.
So shall we get down to it?
Vikings [Funagain]
There are some big names on the list and we'll get to them in a second, but we wanted start with Vikings, not because it comes last alphabetically, but it's a cool little bidding game that has elements similar to our favorite Carcassonne. Plus we'd hate for this game to fall to the end of the list and be promptly ignored. In Vikings players lead their own Nordic tribe as they explore the unknown stretches of the north Atlantic. Interestingly each player has their own board which is their homeland, but compete and bid on new terrain and resources pulled randomly every turn in a very interesting bidding marketplace wheel, carousel, thing. Players score points at the end of each turn depending on how they've fitted their pieces of land, and how they've arranged different types of colonists on each piece. Some very cool stuff is going on here, and we can't wait to get our hands on it when it releases sometime this month. If you want to know more then checkout the English translation of the rules of the German version of the game Wikinger, hosted on the BGG [link].
But the headline titles of the announcement surely are the two biggies: Notre Dame, and the Caylus card game Magna Carta. Both have done wonderfully well in user reviews on BGG – mostly stemming from hands-on trade show experiences - and so we're looking for both to make a fairly large splash when the release in the next few weeks.
Notre Dame [Funagain]
Despite its namesake Notre Dame isn't another cathedral builder. Instead players are assigned a district near the foot of the great 14th century Gothic cathedral, and it's their task to bring distinguished taste to the people of their district.
Each turn players draft action cards from each other, drawing three, selecting one, then passing two to their left. Once everyone has three, players take turns playing their cards to establish influence in their district. Each card's power is based on the player's current level of influence in the various buildings within their district. Once players have established themselves to be of noble significance, they can begin to slowly drag fists of cash beneath the noses of wanting citizens. In response these citizens will grant the player 'privileges'. The player with the most privileges at the end of the game is declared the winner.
There a few tiers of strategy going on here, mixed with a constant race against the growing invasion of plagued rats that scurry around your district, giving you and your fellow citizens a bad name. Things could get interesting pretty fast.
Caylus Magna Carta [Funagain]
The other game on with a large blip on the radar is a card game version of the castle builder Caylus. Don't be fooled though – just because the very deep board game has been streamlined for card play, don't think that Magna Cart is all fluffy pillows and pony rides. While some things have been abstract for approachability (there's no board for instance) there's still a lot going on here to keep the rabid gamer happy.
See for yourself: the rules have been posted online at the Ystari games website [pdf]
And....breathe
The final two games for the month of May are the titles Cartagena II [BGG], sequel to the 2000 release of the pirate jail brake Cartagena, and the zoo builder Zooloretto [BGG]. Although they both seem like solid releases, we think the other Rio Grande Games titles overshadow 'em.
Still - it's not like these games shouldn't be avoided. So we left you some nice links to their Board Game Geek info pages so you can read-up on them if you're interested.
That's all for now. We'll keep you posted when each of these releases. Man, it's going to be a busy summer.
Read More in: Board Games | Gaming News
Share this Article with others:
Related Articles:
Came straight to this page? Visit Critical Gamers for all the latest news.
Posted by Critical Gamers Staff at May 9, 2007 5:45 PM