Critical Gamer's August 2009 Board Game Roundup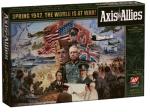 The September weather has capped-off the month of August earlier than the actual Calendar has. It's been downright cold, or rainy, or cold & rainy up here in Boston the last few days. While it may be a bit of a downer to think the weather is already turning its back on Summer, it's exciting to think we're heading straight on into prime board game playing season.
And the drum-up to the Holiday releases has started. Details have been 'printed' on the upcoming Warhammer Living Card Game, Ticket to Ride : Europa 1912 Expansion, Battlestar Galactica: Pegasus Expansion, and BattleLore Dragon Expansion have seriously made us start to drool. I mean, look at that lineup for the fall! Plus Middle-earth Quest and Axis & Allies 1942 are already out. Oh man, it's going to be one heck of a fall. Start playing the titles as they come out, 'cause there might not be enough months in the year to accommodate all the gaming goodness heading our way.
Here are our stories for August 2009, the year of the ox:
Board Games
Card Games
Cheap Deals & Sales
Gaming Culture
Gaming News
Party Games
Read More in: Board Games | Gaming News
Share this Article with others:
Related Articles:
Came straight to this page? Visit Critical Gamers for all the latest news.
Posted by Critical Gamers Staff at August 31, 2009 4:25 PM