Ticket to Ride the Dice Game Expansion Details
We really weren't expecting this. After releasing both the Ticket to Ride the Card Game, which sometimes gives us a headache after repeat plays with all it's state memorization, and the worldwide release of Ticket to Ride Nordic Countries just a few months ago, publisher Days of Wonder is throwing another Ticket to Ride title at us: Ticket to Ride the Dice Game [Funagain].
We think we may have one more Ticket to Ride sideshow in us, but if another looms on the horizon shortly afterward, then we may raise the white flag and declare the franchise has fully run it's course.
Thankfully the Dice Game doesn't seem nearly as dry as the Ticket to Ride Card Game. Instead of reinventing the Ticket to Ride formula we've all grown to love with a card based solitare / gin abstraction, Ticket to Ride the Dice Game simply replaces the standard turn mechanic of each of the Ticket to Ride Board Games with a little random spice. Oh, and it's compatible with all Ticket to Ride board game releases (original, Europe, Marklin and Nordic), which is actually quite nice.
Here's the general gist of how it works: Players will toss 5 dice instead of drawing train cards. The players may spend his/her dice result to claim routes, claim route tokens (which you'll need to collect in order to 'afford' the longer routes), collect route cards, etc. Other wildcard dice will permit players to use the special option specific to each of the major releases, like build tunnels in Europe / Nordic, build stations, or move passengers, etc.
You can find the full details here, including a PDF of the Rulebook.
At first glance it may seem that the dice completely strip the critical suite of decisions a Ticket to Ride player would make: Should I draw another set of cards or play a route before that captain claims it for his own? And we're not quite sure we like the idea of completely removing the colorful train cards. Oh we like them so; collecting them is half the fun!
Here's the upside though: The randomness of trying to draw the right color of train card to complete your collection has been replaced with the randomness of rolling the correct series of dice to claim a route. Any route. Things could get pretty cutthroat.
We'll have a better understanding and our thoughts when the game releases in October. Here are the official details to tide you over until then: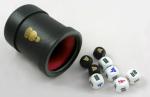 ---

"In this expansion, players still attempt to complete their Destination Tickets and claim routes and block each other on the map. But rather than draw and collect Train cards, they roll five custom Train dice each turn.

Depending on the outcome they can reroll some or all, then use the dice to claim routes on the board; grab Route Tokens for future use; or draw more Destination Tickets.

For board maps that feature Tunnel routes, such as Ticket to Ride Europe, 3 Tunnel dice are also included.

This expansion requires trains, Destination Tickets and a board map from any of the Ticket to Ride series.

The Dice Game Expansion is multi-lingual with rules in English, French, German, Italian, Spanish, Dutch, Finnish, Danish, Swedish and Norwegian."

---
Read More in: Board Games | Gaming News | Variants
Share this Article with others:
Related Articles:
Came straight to this page? Visit Critical Gamers for all the latest news.
Posted by Critical Gamers Staff at September 16, 2008 4:14 PM