A Facinating Story about the Electronic Football Underground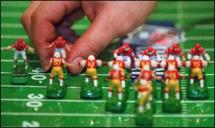 ESPN's website publication "Page2" has a great little article regarding some rabid fans who obsess over Electronic Football. This was one of the best games to have growing-up.. but we haven't touched the rumbling Ralph Wilson Stadium in over 20 years -- ever since that tragic lemonade incident of 1986. Oh the humanity!
From Page2...
Next comes Larry Johnson. Buzz! The tiny running back darts across the metal surface, fast and straight and true. Revels grins.

'He's gonna take over,' he says. 'People think this is just guys running in circles. But you do this six, seven hours a day, and you learn how it works.'
Like the theory says - Out of the chaos, patterns emerge. And after 7 hours so does the vibrating likeness of Abe Lincoln's head, and Fat Elvis.
Read More in: Board Games
Share this Article with others:
Related Articles:
Came straight to this page? Visit Critical Gamers for all the latest news.
Posted by Critical Gamers Staff at February 14, 2006 7:10 PM