Now Shipping: "Blue Moon City"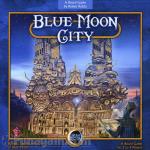 Fantasy Flight Games has just released the board game "Blue Moon City" [Amazon,Funagain], a sequel to the non-collect able 2-player card game "Blue Moon" [Amazon,Funagain]. The original title was a 2004 Nominee for the International Gamers Awards Best 2-Player Game, though it eventually lost out the highly popular Memoir '44.
For "Blue Moon City ", game designer Reiner Knizia (LOTR: The Confrontation, Tigris & Euphrates, Merchants of Amsterdam) once again visits the fantasy world of Blue Moon, but this time drops the direct Head-to-Head cardplay of the original for a more more constructive Eurogame-styled city builder. Here's the official line:
The Dark Age is over. The royal heirs, who caused the conflict and the destruction of Blue Moon City, have fled, and their corrupt advisors have been banished to faraway lands. The bitter division between the peoples of Blue Moon is beginning to heal.

Blue Moon City lies in ruin, but the people have vowed to restore the city to its former magnificence. The three elemental dragons have returned to help in the renaissance of Blue Moon City. They reward good leadership with shards of the Holy Crystal from the destroyed obelisk in the center of the city.

Blue Moon City -- the board game for 2 to 4 players -- picks up where the 2-player card game ended: with the reconstruction of the destroyed city of Blue Moon. Players vie to impress the dragons, collect crystals, and ultimately gain the leadership of Blue Moon City and win the game. Blue Moon City's modular board is formed from 21 large building tiles, which show building plans on one side and the buildings in their reconstructed glory on the other. The game also includes wooden player figures, 80 cards depicting the 8 races of Blue Moon, and, as in the card game, 3 large molded plastic dragons.

Fantasy Flight Games has also published the Official Rules for Blue Moon City on their website. Its definitely worth checking out if you're into the city building genre, or are looking for a non combative yet competitive and moderately complex game. The title has a simple building contribution mechanic for the new players to learn, and its complex reward system creates potential for some serious strategic elements to present themselves after a few sessions..
Blue Moon City is now shipping from Amazon.com and the Funagain Games online store.
Read More in: Board Games | Gaming News
Share this Article with others:
Related Articles:
Came straight to this page? Visit Critical Gamers for all the latest news.
Posted by Critical Gamers Staff at August 9, 2006 1:30 PM