Pillars of the Earth Board Game Expands to 5-6 Players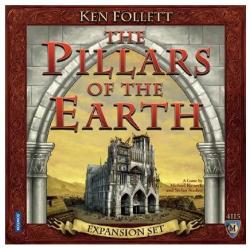 It's been a long time coming. The Pillars of the Earth - a board game adaption to the best-selling historical fiction novel - was one of our favorite titles of last year. Instead of being just washed up adaptation of a novel and just another cathedral builder, it introduced new turn mechanics, interesting resource gathering and construction mechanics, and it's simplly put: a blast to play.
But there was one drawback - it only supported 4 players, and since we usually have 5+ players at our table, The Pillars of the Earth was regrettably pushed to the bottom of our gaming stack. But thankfully, not anymore.
The new The Pillars of the Earth Expansion Set [Amazon, Funagain] ups the player count to a potential 6 while also adding more characters from the Ken Follett masterwork to the workers and event cards. In fact, 30 more cards are added The evil William Hamleigh now makes an appearance, and new mechanics and a hefty board expansion provides hooks for a player to take on the new role of tax collector, or to send architects to France for inspiration in cathedral design, or even help out the king and church by joining the Crusades.
The goal remains the same - be the most influential resource gatherer, builder, artist, or even merchant through out the lifespan of the construction of Kingsbridge Catheral, by whatever means possible. The original title was a blast in the exercise of player adaptability in a turbulent turn structure, and now with even more options on the table, Pillars of the Earth should shine even brighter than ever before.

Details
Description

"This is a useful, multi-faceted addition to the popular medieval cathedral-building board game based on the novel by Ken Follet. Both the original The Pillars of the Earth game and the Expansion Set were designed by Michael Rieneck and Stefan Stadler.

The expansion adds new characters from Follett's novel including the unscrupulous William Hanleigh, the scheming Bishop Waleran, and the talented Sally and allows players to send workers to France for inspiration and instruction, to take on the role of tax collector, or to volunteer works to assist in the Crusades.

This expansion includes the six craftsmen cards released with Spielbox magazine at the end of 2007.

"
Read More in: Board Games | Gaming News
Share this Article with others:
Related Articles:
Came straight to this page? Visit Critical Gamers for all the latest news.
Posted by Critical Gamers Staff at June 2, 2008 1:01 PM