Pandemic: On the Brink Expansion Hits Shelves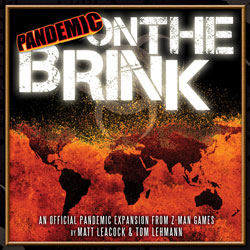 The first expansion to the cooperative board game hit Pandemic has hit shelves, and it's a doozy. The Pandmic: On the Brink [Amazon, Funagain] expansion ups the potential number of participants up a notch from 4 to 5. That's a real nice feature, but the expansion s also chalk full of new rules and game modes that should bring the fun formula of Pandemic to a whole new level.
First off, there are expansion includes a whopping 8 new roles for players, like the Archivist who has a massive hand size and can pull city cards out of the discard pile, or the Troubleshooter who gets to peek at the top of the Infection Deck, and travel to any city has has the card for - for free. Perhaps most interesting is the Field Operative who sucks up samples of diseases off the board to decrease the number of cards he needs to discard to find a cure. It's win-win people. There's definitely some interesting stuff going on in these new roles, and the new massive total number of roles will certainly make each play-through a unique experience.
The game also has three new well-themed challenges that you can play with, either independently or simultaneously, to add an interesting twist to the experience, or just to make things generally more difficult. The new Virulent Strain challenge, Mutation Challenge, and the Bio-Terrorist Challenge (which pits one player against everyone else) are detailed in our previous coverage Pandemic: On the Brink Rules Preview so we won't dive into them here.
The quick-playing Pandemic was always on our shortlist of titles to play. On the Brink pushes it to the top of the stack. Not to spoil anything, but 'Brink will be near the top our Holiday Gift Guide, too.
Here are the official details:
---

"Pandemic: On the Brink is an expansion to our popular cooperative game, Pandemic, wherein players take on roles to work together to fnd cures to 4 diseases. This expansion to Pandemic includes new event cards, new role cards, rules for five players, and optional game challenges to increase the difficulty, such as the 'Legendary' difficulty level, the Virulent Strain challenge, the Mutation challenge, and the Bio-Terrorist challenge. These challenges can be mixed together to make the game even harder. .............. In this expansion you will find six new roles (plus 1 revised OpEx and a Bio-Terrorist), eight new special events, and several challenge kits to be added to the basic game play. Virulent Strain challenge: makes one disease become particularly deadly in unpredictable ways. Mutation Challenge: adds a fifth (purple) disease that behaves differently than the original four. Bio-Terrorist Challenge: pits one player against the others! You may also play with 5 players and play on Legendary level! Other components include: 12 purple disease cubes, 12 pawns in a smaller size, petri dishes to store your diseases and pawns, a bio-terrorist pad for that player to record his actions." -Z-Man Games

---
Read More in: Board Games | Gaming News
Share this Article with others:
Related Articles:
Came straight to this page? Visit Critical Gamers for all the latest news.
Posted by Critical Gamers Staff at September 26, 2009 10:05 AM