World of Warcraft Board Game "The Shadow of War" Official Expansion Preview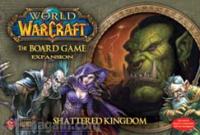 Publisher Fantasy Flight Games has posted a preview article regarding the upcoming expansion for the World of Warcraft board game [Funagain]. "The Shadow of War" doubles the number of cards of the original monster of a title, adding new: trinkets, quests, equipment, the works. Here's a snippet:
One of the expansion's biggest additions is that each class receives 10 new powers and 10 new talents. The new class cards flesh out the characters' strengths and compensate for some of their previous weaknesses, not to mention adding a ton of flexibility and replay value to each class. Some of the powers are not combat-related, but are just as powerful and add variety for players that are looking for interesting new tricks.
The preview feature was written by the aptly name John Goodenough - this is a very straightforward and vanilla article. It does a great job of running through the new features, but if you aren't a World of Warcraft board game aficionado then this preview certainly won't turn you into one. If you're interested in reading about the successful WoW boardgame first, check out this great BGG forum post review of the game.
"Shadow of War" [Funagain (preorder)] is at the printers now, and should be available for purchase this September.

Read More in: Board Games | Gaming News
Share this Article with others:
Related Articles:
Came straight to this page? Visit Critical Gamers for all the latest news.
Posted by Critical Gamers Staff at July 24, 2006 2:15 PM