Now Shipping: "Wings of War: Recon Patrol Deck"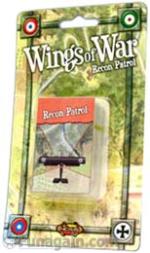 "Wings of War:Recon Patrol Deck" [Funagain] from Fantasy Flight Games expands the standalone title "Wings of War: Famous Aces", a hybrid of board game and card game set in the frontier of WWI air combat. We haven't covered Wings of War [Funagain] yet, so if you're scratching your head right now then it's probably not lice (... probably). To solve that problem of the unknown, let's dive into some of the original Wings of War game play before covering the What's New in the Patrol Deck expansion.
The Company Line on Wings of War: Wings of War is a game series which merges card and board game mechanics to recreate aerial combat. The first series of Wings of War games focus on the "knights of the air" age, World War I, portraying the abilities of the fighting planes of this period. Each Wings of War set is a complete game for 2 to 4 players, which may be combined with additional sets, or with other copies of the same set, to play larger games. For that purpose, 23 planes with different colors are included in each box. Each plane comes with accurate historical documentation. Wings of War uses an innovative card-based movement mechanic. By selecting from his maneuver deck, each player can plot out the loops, rolls, and twists that his dogfighting plane will undertake. Each plane has a specific maneuver deck with its own unique options, so you'll fly differently from game to game. Outwit and outmaneuver your opponent, and you will reap the rewards!
In Wings of War players control planes of various classes. Some are more maneuverable, some faster, others can soak up the damage. During each round players play 3 maneuver cards from their deck. Some maneuvers may have their planes fly straight, others can have them pulling off loops, barrel rolls, stalls, etc. After each maneuver in the round the players will push their plane cards into position across the table, then check to see if their opponent is in range in one of their plane's firing arcs. If so, then the target player draws a damage card and applies physical damage, or they adhere to the special damage rules on the card such as gun jams, explosions, etc. The game is all about outwitting your opponent through feints and maneuvers, while predicting your opponent's actions in your attempts to line-up another shot.
Wings of War has three base sets: "Wings of War: Famous Aces" is the first title in the series; also "Wings of War: Watch Your Back" and "Wings of War: Burning Drachens" are both boxed stand alone games that can be used as addons to the original. Each title adds more planes and more scenarios.
That brings us today. Wings of War: Recon Patrol is an expansion (not a stand alone game) that adds to the card sets for any of the three boxed additions of the game. Here's the official info.
The Company Line on Wings of War: Recon Patrol: Wings of War: Recon Patrol includes the popular D maneuver deck, as well as the new K deck, for two-seater aircraft. It includes a variety of airplanes, from the Sopwith Triplane of Naval 1, planes from Richthofen's "Flying Circus," and even a Turkish Breguet Br.14 B2. Recon Patrol is a suitable addition to any of the three Wings of War base games.
Wings of War: Recon Patrol [Funagain] is shipping from stores now. The game will also break into the WWII era in October with "Wings of War: Dawn of War."
Read More in: Board Games | Gaming News
Share this Article with others:
Related Articles:
Came straight to this page? Visit Critical Gamers for all the latest news.
Posted by Critical Gamers Staff at September 5, 2006 9:30 PM