Now Shipping: "Tempus"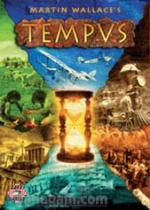 Cafe Games is now shipping Tempus [Funagain], a new civilization building game deep in strategy but simple enough for the whole family to enjoy.
Normally we react to to Civ games with an immediate cringe, as most of their rules are dynamic (to give room for modifier hooks used to represent technological advancement), and therefore inherently complicated. We also don't get much joy over tracking civil population, or adding a series of weapon modifiers to an attack roll, or offsetting them with negative morale, or keeping a supply chain intact while marching armies from one side of the Mediterranean to the other. *deep breath*. You get the idea.
Tempus aims to be a Civ game with depth, but that depth comes in the tough turn decisions instead of stacks of units and upgrade counters twenty chits high. The title is said to take only ten minutes to learn and a little over an hour to play. Players chose from only five options in a turn, including attack, breed, build cities, use idea cards, etc. The five options may seem like an oversimplification, but they can be use as building blocks for some great strategic moves. Here's the official line:
At the dawn of time, Stone Age civilizations are scattered across the land, each one struggling for survival. However, the spark of civilization has been ignited and cannot be extinguished. Ideas and inventions are spreading like wildfire across the continent and your people are taking their first steps towards building a modern society. Lead your civilization through conflicts as they strive to master world-altering advancements such as writing, road building, seafaring and more, always working towards the final goal of flight.

In Tempus, every decision is challenging, as your culture clashes with your opponents' while time marches inexorably on. Building cities, expanding population and wars with other empires are ever-present challenges. Each era of history presents you with new innovations, which beg to be mastered.

Success in Tempus is defined by the player who can build the greatest civilization. If your civilization also manages to conquer the skies you will likely dominate the world, and win the game.
Tempus is now available for purchase and is shipping from Funagain Games.
Read More in: Board Games | Gaming News
Share this Article with others:
Related Articles:
Came straight to this page? Visit Critical Gamers for all the latest news.
Posted by Critical Gamers Staff at August 2, 2006 4:34 PM