Now Shipping: Rum & Pirates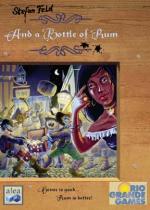 Rio Grande Games has released Rum and Pirates [Funagain], a simple board game set at night in a coastal pirate town. Players take turns moving pirates around town in attempt to gain renown by: collecting rum, fighting town guards, finding pieces of treasure maps, recruiting more pirates, etc. This isn't the most complicated of all games, but that makes it a great title for family gaming night or for leisurely gamers. Here's the official line:
The players take on the roles of pirates.They move the captain along the alleys of the pirates nest, looking for treasure maps and treasure chests. Or they meet the city guard and deal with them if they can. Naturally, they will visit the few pubs to gather and drink some rum together. They will also have opportunities to acquire the special wares needed by pirates like wooden legs and eye patches. At the end of the day, they head back to the ship and wrangle for the few sleeping places available there. All these activities earn the players tiles, which are worth honor points - most positive, but some are negative. These honor points are tallied at game end.

The player who ends the game with the most honor points is the winner!

2-5 players, aged 9 +;
Length: 60 minutes;
author: Stefan Feld.
Rum and Pirates is now shipping from the Rio Grande Games warehouse, and is available to order from Funagain Games.
Read More in: Board Games | Gaming News
Share this Article with others:
Related Articles:
Came straight to this page? Visit Critical Gamers for all the latest news.
Posted by Critical Gamers Staff at July 5, 2006 2:42 PM