Now Shipping "Iliad"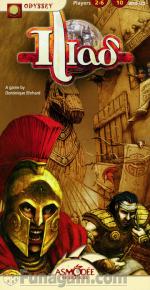 We realize that your knee-jerk reaction to a game named Iliad [Funagain] must be: this is obviously a game for the history or literature buffs. Well from what we've heard from the review by Tom Vassal (the Churchill of game reviewers) everyone should be impressed by this interesting card game of ancient warfare. And with the eminent release of Medieval 2: Total War, this game certainly fits our current mood.
Players of Iliad lead Greek forces in their epic assault on Troy, vying against one another to become the most prestigious leader on the battlefield. The game evolves over a series of sieges that are like tricks in a card game or hands in poker (but without the gambling, so it's family-safe). Whoever claims the most prestigious victories in the entire war wins the game.
Here's the official word from publisher Asmodee Editions:
The Company Line: The Trojans abducted Helen, and the Achaean princes took advantage of the opportunity to lay siege to this proud city.

But war during ancient times has its own set of rules. Being more than just a single, well-organized army, the Greeks will present an assortment of princes, each fighting for his own glory. Each player is an incarnation of one of these characters!

The game proceeds in several successive sieges (phases of the game) during which victory cards are brought into play. With the aid of the cards in his hand, representing all the components of an ancient army (hoplites, archers, elephants, various siege engines, including the famous Trojan horse…), each player will construct a powerful army before himself, and will have to choose between sacrificing new cards from his hand (since those are not inexhaustible) or utilizing the abilities of the cards he has already placed.

Each player will have to form the best army from these cards, torn between the multiple choices offered to him with each round of play.

In this new, very tactical card game, Dominique Ehrhard brilliantly revisits the mechanisms that made Condottiere so successful. The superb illustrations by John Mac Cambridge, antiquity fanatic, are an additional invitation to join the voyage.
Iliad is now shipping from FunagainGames.
Read More in: Board Games | Gaming News
Share this Article with others:
Related Articles:
Came straight to this page? Visit Critical Gamers for all the latest news.
Posted by Critical Gamers Staff at November 9, 2006 8:48 AM