Now Shipping: "Catan Histories: Struggle for Rome"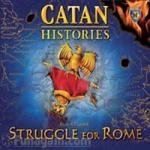 Publisher Mayfair Games has shipped their latest installment to the Settlers of Catan line of titles. Catan Histories: Struggle for Rome [Amazon, Funagain] brings the setting of the series to the fall of the Roman Empire. Players act as leaders of barbaric tribes invading the Italian peninsula, moving south to sack various Roman cities on the board. As the players' barbarian forces become stronger in number and power they can chose to settle down and create settlements of their own, each living off the land through the dice rolling resource mechanics similar to other games in the Settlers franchise.
The game review god Tom Vassel from The Dice Tower has recently written an in depth review of the title, giving it a solid 8 out of 10. He writes:
"... the gameplay, while retaining some of the basics of Catan mechanics, has a completely different feel – quickly becoming a favorite of mine. With a de-emphasis on trading and a heightened sense of exploration and war – the theme certainly fits the mechanics." - Tom Vasel
We highly recommend that you check out his complete review of Struggle for Rome. It's great stuff as always. He suggests that although the title might not replace Settlers of Catan for your gateway game of choice, Struggle for Rome certainly makes a very nice next-step. For more official details of the game checkout our previous preview coverage of the game.
Catan Histories: Struggle for Rome is now available and shipping from Amazon and from Funagain Games.
Read More in: Board Games
Share this Article with others:
Related Articles:
Came straight to this page? Visit Critical Gamers for all the latest news.
Posted by Critical Gamers Staff at February 6, 2007 11:37 AM