Now Shipping "Battlestations: Pax Galacticum" Expansion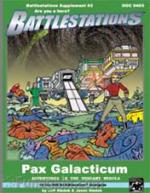 Publisher Gorilla Games have released their latest expansion to the cooperative rpg / board game hybird "Battlestations". "Pax Galacticum" (Adventures in the Verdant Nebula) comes with a new setting, new ship tiles, rules, and hero skills. Here's the official line:
Adventure beyond combat in the second exciting supplement for Battlestations! Challenges of skill, rescue missions and puzzling space anomalies will add intrigue and depth to your adventures. New Combat skill actions and equipment allow an easy translation for 'marines' to become brave rescue workers! (The adventures, equipment and bonus modules are completely compatible with the basic game.)

Contents:

1 rulebook
6 double-sided modules
30 double-sided markers
16 fungaloids



The "Pax Galacticum" expansion is now shipping from Funagain Games and the online at the official Battlestations! store.
For those of you new to Battlestations - the game is a cooperative hybrid board game where players work together to control a starship of their design. The design is decided by the group, and reflected in the placement of the various ship tiles, including rooms like the Helm, Missile Bay, or Science Bay. Players control custom hero characters who walk around the various rooms of the ship pushing buttons, putting out fires, operating the zero-G toilet, firing weapons, and pushing back alien boarding parties.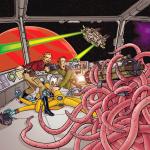 Picture a board game where players fulfill the officer roles of Star Trek (but in a more colorful universe) and you can see where this game gets its popularity. Here's the Battlestation's official description:
Battlestations is a pulp sci fi adventure boardgame. Ongoing adventures feature simultaneous ship-to-ship and boarding combat in space. Players work together as a starship crew aboard a ship of their own design facing referee-controlled forces. You'll track the heroes' positions on the starship layouts and the starships' positions on the space map. The action in Battlestations is character driven. If you want the ship to turn, speed up, or launch a missile or blast the enemy ship, a hero has to take an action to make it so.

Take action to defeat enemy warships, resolve alien encounters or adventure through uncharted astral phenomena.

With the expanding Battlestations universe, there's always a new adventure in the stars!

Contents:

48 double-sided 3.5" Starship Modules
8 8.5" x 11" Hex Maps
160 Die Cut Counters
32 Die Cut Hexagonal Markers
10 Glass Marker Beads
6 Dice
128 cardboard Fold-up Heroes
112-Page Adventure Book



Tastey. The original Battlestations starter set is also available at FunagainGames. Also, read more about the game at the official Battlestations website.
Read More in: Board Games | Gaming News | RPGs
Share this Article with others:
Related Articles:
Came straight to this page? Visit Critical Gamers for all the latest news.
Posted by Critical Gamers Staff at July 26, 2006 2:57 PM