Now Shipping: "Axis and Allies: Battle of the Bulge"
The Battle of the Ardennes began when German Artillery opened up on snowed-in Allied positions in Belgium on December 16th, 1944. It was the German's last-ditch attempt to break the Allied advance in Western Europe. The German High Command banked the entire operation on being able to capture gasoline and supplies from the defeated allied army in order to fuel the German advance.
Short of supply themselves, and without air support due to foul weather, the Allies held their ground for long enough to stall, and then repel the German advance.
At the start of the attack, the American 101st Airborne Division and Combat Command B of the 10th Armored Division occupied the hub town of Bastogne, the focal point of the battle. Whoever controlled the town had access to a network of roads that allowed troop movements in all directions. By the second day of the attack they found themselves surrounded by mechanized forces. Under constant attack, out-manned, out-gunned, but not to be outdone, the 101st stood-fast through the siege for seven more days. Their resolve became the flagship story of the Battle of the Bulge.
Now, in the second installment of focused WWII campaigns, the popular Axis and Allies series ships Axis and Allies: Battle of the Bulge [Amazon, Funagain]. Here's the official word: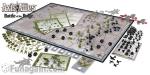 The Company Line: Prepare for a major offensive as German tanks thunder into the snow-covered Ardennes forest, opposed only by a few unsuspecting divisions of exhausted American troops! Providing the historical counterpart offered by Axis & Allies: D-Day, Battle of the Bulge challenges players to control territory and contend with supply shortages, while directing infantry, artillery, tanks and aircraft in one of the most decisive conflicts of World War II.

Contents:

1 Game Board
157 Combat Unit Playing Pieces
135 Plastic Chips
110 Supply Tokens
30 Front-Line Markers
2 Twelve-Sided Dice
6 Combat Strips
4 Reinforcement Charts
1 Victory-Point Marker
2 Turn-Order Charts
1 Turn Marker
1 Rulebook
We'll always have a place in our hearts for the Axis and Allies line of games - the original was a stepping stone for us between the simplistic world of Risk warefare and the wargames with far more beefy rules. Battle of the Bulge looks like to be a great extension of that franchise.
Axis and Allies: Battle of the Bulge is now available from Amazon and Funagain Games.
Read More in: Board Games | Gaming News
Share this Article with others:
Related Articles:
Came straight to this page? Visit Critical Gamers for all the latest news.
Posted by Critical Gamers Staff at November 21, 2006 1:31 PM