Now Shipping: "A Game of Thrones: A Storm of Swords" Expansion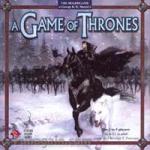 Fantasy Flight Games has released the second expansion to their A Game of Thrones [Funagain] boardgame line. A Storm of Swords [Funagain] includes a impressive set of new content ( including 42 new house cards, and 40 Westernos cards ) to expand upon the existing individual factions, turn rules and game mechanics.
A brand new board details the northern half of Westeros. Gone are the naval vessels of the original game, so no more sneaking around the front line to attack the exposed underbelly of your opponent. Instead combat is focused inward. The game board still does have a sense of fringe territories (like the islands of the original) as weather patterns can unexpectedly impede movement onto the various fjords on Westeros' extreme coast.
Players may deploy garrisons on the board to defend their cities, and call upon the new faction leaders to give their armies that extra bit of offensive oomph on the front lines. As an added dynamic to battle system, leaders are captured when defeated in battle, and can be ransomed back to the controling player for a price. Leaders who stay in captivity for too long face the growing risk of execution from one of the game's 40 new Westeros cards.
The game also adds a new "Tactical Card" gameplay element. Each turn players chose from one of 8 cards in their hands, each provides their faction a focused boost in various elements of the game. Tactical cards can be used to augment the offensive or defensive values of armies, or rescue a captured leader, or recruit the aid of the various new allied factions.
A Storm of Sword's rulebook provides details on how these new pieces and gameplay elements can be used to play with the original A Game of Thrones board game. A Storm of Swords also includes content for House Martell which was introduced by the Funagain"A Clash of Kings expansion [Amazon,Funagain]. However, a Clash of Kings is not required to play this second expansion.
The Official Line: The land of Westeros is about to get a lot more interesting. The A Storm Of Swords expansion for the A Game Of Thrones board game offers two different gaming experiences. First, the expansion features a brand new 4-player game, including new components, new victory conditions, and a plethora of strategic options. Second, the expansion includes rules on how to incorporate many of these new options into the classic A Game Of Thrones game.

The new Storm Of Swords game board depicts the Trident Riverlands area of Westeros. New Tactics cards allow you to gain combat bonuses, make your armies more mobile, or gather more power. New Ally cards enable you to gain the support of lesser houses, hardened mercenaries, and cold-blooded outlaws. New Leaders allow you to march devastating forces into battle, and you can make your opponents beg for mercy when you take their Leaders hostage.

The expansion also includes new House cards for all six of the great houses, an alternative set of Westeros decks, and rules on how to incorporate Tactics cards, Leaders, and other new mechanics into the original A Game Of Thrones board game. Tons of new options and two different gaming experiences are all found in the Storm Of Swords expansion.
The expansion's rule book is posted online, so you can check out even more of the game's details before you buy it.
"A Storm of Swords" and "A Game of Thrones" are now shipping and are available for purchase from Funagain Games.
Read More in: Board Games | Gaming News
Share this Article with others:
Related Articles:
Came straight to this page? Visit Critical Gamers for all the latest news.
Posted by Critical Gamers Staff at July 17, 2006 5:37 PM