Mystery Express Announced, Rekindles the Classic Clue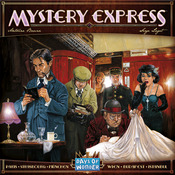 Days of Wonder, makers of fine board games like our favorites Ticket to Ride, Shadows of Camelot and Small World, have announced their first title of the year. Mystery Express has players traveling along the Orient Express, racing to correctly accuse a murderer among the passengers before the rail terminates in Istanbul Hungry.
The game has been designed in part by Serge Laget who worked on Shadows Over Camelot, and at first thought we dreamed that perhaps one of the players would take on the hidden role of the murder (aka Shadow's Traitor) who would use social misdirection to ensure that he or she isn't caught. However, from the breakdwon of the press release, this just seems like a classic Who Done It clue gathering game with a time table. That is: the game ends after a series of turns, and the player with the most uncovered clues is the winner. However, unlike the actual title Clue, you won't have to put all of your eggs in one basket at the end, just get the most clues correctly guessed.
Overall, the game sounds great, and the newly launched Mini Website sports some great artwork. Here are the details from the official press release:
---

"Players board the famous Orient Express in Paris just as a murder occurs. The rest of the trip - through Strasbourg, Munich, Vienna, Budapest and their final destination of Istanbul - is consumed with determining the who, what, when, where and why of the crime. Players use their special powers of deduction; information gleaned from others in various train cars; and investigative actions to determine the exact circumstances of the murder. The one who correctly identifies the most elements of the crime by the time the train reaches Istanbul wins the game.

Mystery Express is a classic Days of Wonder design made up of top-notch components and unique, period-perfect illustrations. Along with the Mystery Express board map detailing its itinerary from Paris to Istanbul the game features: 5 resin character figures and matching character tokens; 5 Ticket wallets that include a description of each character's special power; 100 Deduction sheets that players use to keep track of their deductions; 72 Crime cards; a Mystery Express miniature train to track the Mystery Express's journey on the map; a Conductor figure; 2 small passenger tokens, a miniature travel bag, a train whistle and rules booklet. Mystery Express is for 3-5 players and will be available worldwide in April 2010. Price is $50/€45."

---
Read More in: Board Games | Gaming News
Share this Article with others:
Related Articles:
Came straight to this page? Visit Critical Gamers for all the latest news.
Posted by Critical Gamers Staff at January 25, 2010 3:38 PM