Mystery Express a Fantastic Who Done It Board Game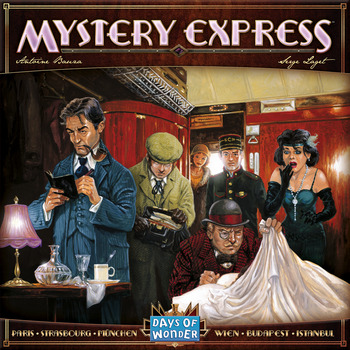 Publisher Days of Wonder has shipped their first, and the latest and greatest, take on the classic Who Done It board game. Mystery Express [Amazon, Funagain] takes the murderer deduction game to the Orient Express.
The game features the heavy production value that attain a level that only Days of Wonder can achieve, and the gameplay matches that high level of craftsmanship. Fans of Clue, Mystery at the Abbey, or .. well, Whodunit? should find a game that's a more complex (and therefore interesting) deduction game, and definitely worth your time.
And here are some resources for you to check out. First up is Our Previous Coverage about the game. Also, checkout this great user review that Compares Mystery Express with other leading deduction games. Finally there's Dice Tower's Video Review which are always great to watch to get a grasp on gameplay.
And finally here are the game's details from the game's official website:
---

"Mystery Express is a whodunit deduction game from Days of Wonder. The murder that takes place on the Orient Express incorporates 5 different elements represented by a set of Crime cards. Players take on the role of one of 5 traveling characters, each who has their own special powers of deduction. The player who figures out the who, what, when, where and why of the murder before the end of the journey wins.

Designed by Antoine Bauza and Serge Laget, Mystery Express is an imaginative new take on the classic deduction board game, made up of top-notch components and unique, period-perfect illustrations."

---
Read More in: Board Games | Gaming News
Share this Article with others:
Related Articles:
Came straight to this page? Visit Critical Gamers for all the latest news.
Posted by Critical Gamers Staff at April 7, 2010 5:15 PM