Memoir '44 Sword of Stalingrad Coming Soon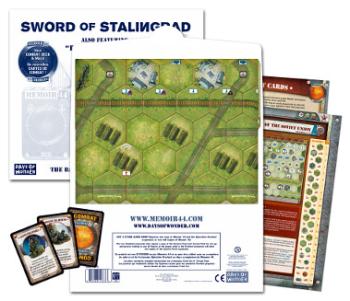 Days of Wonder has posted details about an upcoming Battle Map expansion to the Memoir '44 franchise. Set during the German siege of Stalingrad in 1942, this expansion will include two new scenarios, and more interestingly a new Urban Combat deck of cards.
Like the previous Battlemap installments the new Sword of Stalingrad includes a large board for some epic fights. The drawback: you'll need the materials to get the thing up and going. The system is meant for players with two copies of Memoir '44, or a single copy with the Overlord Expansion. And if you want to use the real Russian troops on the board, then you'll also need Memoir '44 Eastern Front (something that you really should have anyway -- Western Europe has been done to death).
Full product details and rules for the upcoming expansion can be found at the Memoir '44 Sword of Stalingrad website.
Read More in: Board Games | Gaming News
Share this Article with others:
Related Articles:
Came straight to this page? Visit Critical Gamers for all the latest news.
Posted by Critical Gamers Staff at October 27, 2009 5:10 PM