Memoir '44 Bulges East and West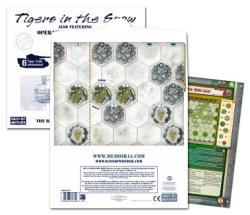 The expandable WWII board game franchise Memoir '44 has built-out the franchise's European theater of operations even further. Following the first Battlemap Expansion Hedgrow Hell, the second Battlemap Expansion Tigers in the Snow / Operation Market Garden [Amazon, Funagain] includes 4 new scenarios, 2 new board layouts, and 6 detailed Tiger Tanks pieces. The major scenarios are balanced for 2-8 players, which makes for some pretty sweet gaming night action.
Those mainstream Western Front fans will get the blundering Operation Market Garden scenario, which tasks allied forces in taking and holding a series of bridges in Holland. Somehow Days of Wonder have managed to squeeze all the Dutch bridges onto one map, which doesn't seem entirely accurate, but it looks like a challenging romp of paratroopers and tank convoys all the same.
Still, Western Europe has been done to death, and we're far more excited with the Eastern Front setup. The late war Russian push against Germany includes some of the most amazing armor battles that are sadly missing from a lot of mainstream WWII games, be they on a computer or a board. The Tigers in the Snow scenario has German troops digging in to resist a Russian advance in the Winter of 1944-45. Of course, digging in instead of retreating was Hitler's crazy idea, a decision that was made under protest by the German field commanders, so their forces are understrength and generally not in a good way.
There is some duality in these two scenarios. In Market Garden the allied forces were lacking the tools to take and secure territory on their surprise paratrooper attack. Meanwhile in the other scenario on the eastern front, the tough roll is rotated to the defender's side, where the German forces are on the brink of desertion and must pull themselves together to ward off a massive attack. This contrast could make for some interesting gaming sessions.
The expansion also includes two scenarios for the standard Memoir '44 set. These other scenarios require only one Memoir '44 box to play. Operation Market Garden and Tigers in the Snow both require Memoir '44 and the Operation Overlord expansion, or two copies of Memoir '44. If you want to use the correct Russian pieces, then you could substitue the Eastern Front Expansion as well.
More information can be found at the official Tigers in the Snow / Market Garden websitee. Memoir '44 Battlemap Expansion 2 is now shipping from Amazon and Funagain Games.
Read More in: Board Games | Gaming News
Share this Article with others:
Related Articles:
Came straight to this page? Visit Critical Gamers for all the latest news.
Posted by Critical Gamers Staff at May 18, 2009 5:35 PM