Mayfair Games Announces Forest Fires and Nuns for March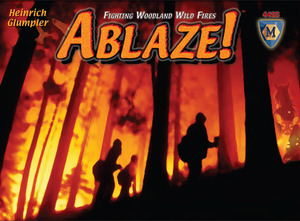 Mayfair Games has been the publisher of some fantastic Eurogames over the years. Unfortunately they haven't pushed a title with enough beef to make our must-purchase list lately, and we're hoping that 2010 is the year they turn things around.
So let's see how the year starts. First up for the end of winter are two new titles: Ablaze and Nuns on the Run.
Let's address Nuns on the Run first. We should note that title has nothing to do with the 1990's Eric Idle and Robbie Coltrane masterpiece. Instead of disguising yourself in drag to hide from fellow bank robbers, players on the board game will take on the roles of novices exploring the nunnery at night. Players will have their own secret agendas to achieve during the game, working together to sneak through the halls while remaining undetected. The trick is that another set of players will be controlling the Abbess and the elders of the nunnery, all of who are trying to catch anyone out of their beds at night. It's an "Us Versus Them" game of sneaking, spying and dark corridors which should be some light, interesting fun.
The other title on the near horizon is the game themed with explosions and wild fire. Ablaze is actually three games in one, two of the games are proven titles under different names, and the third is a yet unseen game. The first variant Volcano! has players controlling air tankers competing to save as much land as they can from the firey embrace of a very active Volcano. The second variant Wildfire! involves players taking on the roles of firefighters on the ground who work from water sources outwards as they attempt to contain fires that spread through a tile flipping mechanic. The final title On the Run! challenges players to save slightly crisp forest critters running from a fire that's spreading by lightning strikes
More information about these two titles can be found at the Mayfair Games website. We'll keep you apprised of the game details when the titles launch in March.
Read More in: Board Games | Gaming News
Share this Article with others:
Related Articles:
Came straight to this page? Visit Critical Gamers for all the latest news.
Posted by Critical Gamers Staff at February 22, 2010 2:20 PM